Installation was quick and easy with minimal clean up and no spoils to haul away.
Shaner Industries, a Pittsburgh-based company that specializes in the design, engineering and installation of steel foundations, is proud to announce that it recently completed the installation of custom-designed steel foundations to support large solar dish assemblies in Arizona.

Faced with installing solar dish assemblies – with a diameter in excess of 30 feet and weighing over 3,000 pounds each – in a limited access area, the project contractor selected Shaner Industries' metal foundations to support these large structures. Shaner Industries' patented steel foundation designs and proprietary installation methods eliminate the need for concrete, therefore much of the equipment and many of the processes necessary to install concrete were eliminated. There was no digging and disturbed soil was used for back fill. Installation was quick and easy with minimal clean up and no spoils to haul away.
"Our patented steel foundations require no concrete to install. They are pre-engineered, delivered to the job site ready to install, and the structure can be mounted to its foundation immediately" said Geoffrey Feidelberg, CEO of Shaner Industries. "By eliminating many of the processes necessary to install standard concrete foundations, our installation processes are much faster than standard concrete installations and less equipment, less man power, and less space is required."
Shaner Industries' saves its average client more than 50% of the time and nearly 30% of the costs involved with installing standard concrete foundations. With many advantages over concrete foundations, Shaner Industries offers a truly innovative, time-efficient, and cost-effective solution for foundation installations for just about any structure being erected in remote, congested and limited access areas.
About Shaner Industries: Shaner Industries is a wholly owned subsidiary of Shaner Capital, L.P. and is based in Pittsburgh, Pa. For nearly 20 years, Shaner Industries has been the prime choice of many organizations to efficiently design and install metal foundations to support various structures. With patented metal foundation designs and installation processes, Shaner Industries has installed more than 200,000 steel foundations worldwide. With a historical track record of durability and reliability, Shaner Industries has clearly positioned its metal foundations as the unparalleled alternative to concrete foundations.
For more information: www.shanerindustries.com
About Shaner Capital, L.P.: Shaner Capital L.P. is a private investment fund formed by Lance T. Shaner, CEO of the Shaner Group. The objective of Shaner Capital is to assist well-run, innovative companies to grow and expand their businesses. Shaner Capital holds controlling interests in numerous operating companies.
Headquartered in State College, Pa., Shaner Capital and the Shaner Family of Companies are comprised of diverse and financially strong organizations with over 2,500 associates globally. For more information: www.shanercorp.com
Featured Product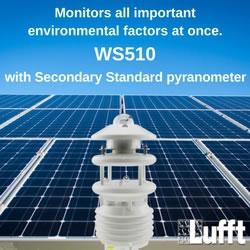 Professional weather sensors form the heart of large solar plants supporting their operation and performance. Lufft was the first manufacturer to combine several sensors in one housing, bringing the largest multiparameter weather sensor family with 19 members into being. Many of them are well-suited for solar site assessment and continuous monitoring. The most commonly used one is the WS600 delivering data on temperature, air pressure, wind, relative humidity and precipitation. Through its open protocol, it can easily be attached to radiation sensors e.g. from Kipp&Zonen. Other models have an integrated Silicon, Second Class or Secondary Standard radiation sensor.