Financing and Power Purchase Agreement provided by Energy Finance Company's FUSE Fund
WEST SACRAMENTO, Calif.--Stellar Energy, a large-scale solar energy project developer and systems integrator, based in Rohnert Park, California is proud to announce the completion of a 296 kilowatt (kW) solar project that provides solar energy to ASC Profiles Inc. - a manufacturer of steel roof, wall, and deck building products.

The new 296 kW solar energy system consists of five individual solar photovoltaic arrays. Four are elevated carport structures, and one is a roof-mounted array. The total array area is 22,133 square feet and features 1,056 Eoplly 280 watt solar modules and one Solectria SGI 266 kilowatt inverter, which produces enough electricity to power approximately 70% of ASC's predicted energy consumption.
ASC Profiles' primary goal was to reduce the operational costs of their manufacturing plant in West Sacramento, California, where the company is headquartered. In addition to lowering their electrical bill, ASC Profiles wanted to showcase one of their key customers, Baja Construction Inc. ASC Profiles produces the steel used in Baja's Solar Support Systems, which are designed to support solar panels for solar carports and shade structures.
After considering all possible financial options, ASC Profiles chose a Power Purchase Agreement (PPA) with Energy Finance Company's FUSE Fund LP, which provided the capital required to build the system. Stellar Energy provided all engineering, procurement, and construction (EPC) services and was responsible for managing the entire project on time and on budget.
"Combining Stellar Energy's experience with a Power Purchase Agreement with Energy Finance Company was the right choice for us," said Eric Bartlett, Project Manager at ASC Profiles. "We've basically gained all the benefits of solar power without the expense of building or responsibility of maintaining the system for 20 years."
Under the terms of the agreement, Energy Finance Company will own, operate, and maintain the system, with ASC Profiles purchasing the solar generated electricity at a predictable rate lower than that offered by the local utility. By going solar, ASC expects to save approximately $1,250,000 over the next 20 years.
"The savings achieved by the ASC Profiles solar project is another example of the economic benefits available through on-site solar power generation," said Reyad Fezzani, CEO at Energy Finance Company. "We are pleased to see a growing number of organizations realize the value of solar through the simplicity of a Power Purchase Agreement."
"The limited roof space available at ASC made this an ideal situation to design a system with Baja's solar support structures," said Michael Mittleman, Senior Vice President of Operations at Stellar Energy. "This allowed us to utilize the 'dead space' of the parking areas to accommodate the volume of solar modules required, and still provide enough clearance for their delivery trucks to pass through."
"ASC Profiles is the leading supplier of steel that goes into manufacturing our solar support structures," said Bob Hayworth, CEO of Baja Construction Inc. "So, naturally we were pleased to have them utilize our elevated cantilever system to accommodate the large solar arrays in their yard. We look forward to helping Stellar Energy in similar large-scale municipal and commercial and solar projects."
For photos and complete details about this solar project please see: http://stellarenergy.com/case-studies/commercial-solar/industrial/item/asc.html
About Stellar Energy
Stellar Energy is a large-scale solar energy integrator with complete design, engineering, procurement, and construction (EPC) management capabilities. With over 25 MWs of solar PV installations spanning commercial, industrial and municipal clients, Stellar Energy is one of the top solar EPC firms in the nation. For more information, please visit www.stellarenergy.com
About Energy Finance Company
Energy Finance Company (EFC) was formed to provide the capital for quality credit commercial, municipal and government customers desiring solar power systems. EFC's Funding Solar Energy Fund, LP (the "FUSE Fund"), is the vehicle that owns and operates the solar projects and provides up to 100% of the capital required. The FUSE Fund uses a unique business model that offers a simple, low-cost way, to purchase solar electricity. FUSE Fund has a strategic relationship with solar module manufacturer Eoplly, Soligent and Stellar Energy. For more information, please visit www.energyfinancecompany.com
About ASC Profiles Inc.
ASC Profiles is a subsidiary of BlueScope Steel and an industry leading manufacturer of steel roof, wall, and structural roof and floor deck used in the construction industry since 1971. For more information, please visit www.ascprofiles.com
About Baja Construction, Inc.
Baja Construction has specialized in pre-fabricated, pre-engineered, high-tensile light gauge steel structures since 1981. They focus on designing, engineering, supplying and installing their Solar Support System™ as an integral component of solar ground-mount, carport, EV Charging and RV/Boat storage solutions. For more information, please visit www.bajacarports.com
Featured Product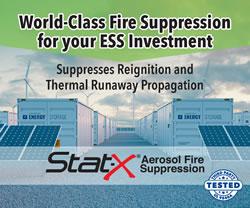 Stat-X® condensed aerosol fire suppression is a solution for energy storage systems (ESS) and battery energy storage systems (BESS) applications. Our Stat-X condensed aerosol fire extinguishing product was tested for efficacy in suppressing li-ion battery fires. It was found that the product successfully extinguished single and double cell battery fires. This testing was conducted in parallel with a large battery fire testing program on behalf of a large energy storage company.