Complementing Its High Power Semiconductors for Better System Efficiencies
BIEL, Switzerland--IXYS Corporation (NASDAQ:IXYS) an international power and IC semiconductor company, today announced that its wholly owned UK subsidiary, IXYS UK Westcode Ltd., expanded its portfolio of capacitors for power electronics, including many new introductions to complement its extensive range of power semiconductors.

Within the portfolio are AC/DC capacitors (general use), Axial and Radial low inductance capacitors, gate turn-off thyristor (GTO) snubber low inductance capacitors, PK-16 low inductance DC capacitors, SR17TM DC capacitors for traction and 3-phase AC filter capacitors.
"This expanded portfolio enables IXYS UK to fully support the design needs of our customers, providing a total solution with both semiconductor and complementary capacitors. These capacitors have a unique self-healing dielectric characteristic giving them a longer operating life over conventional designs," commented Nicholas Tarling, product engineer at IXYS UK.
This portfolio covers capacitance of up to 7400uF with DC voltages up to 50kV and peak current up to 34kA. IXYS UK can also design and supply custom made capacitors to suit any application. Please contact IXYS UK for your specific requirements.
Typical applications for these capacitors include: line filters, energy storage, GTO and IGBT snubbers, smoothing and rectification, surge and pulse discharge, commutation, 3-phase harmonic filters and clamp circuits.
For more information please go to the IXYS UK website at www.ixysuk.com or please contact us at (email: sales@ixysuk.com) or telephone: +44 (0)1249 444524 for quotation.
About IXYS UK
Located in Chippenham, England, IXYS UK Westcode Ltd is the IXYS leading manufacturing site for very high power thyristors, SCRs and rectifiers ranging up to 6500 Volts and 15,000 Amps. IXYS UK continues to supply high technology components for a wide range of applications such as wind and solar energy, welding, AC and DC motor drives for oil, marine and water treatment facilities, uninterruptible power supplies, motor soft starters, transportation, induction heating, mining equipment and many other industrial applications.
About IXYS Corporation
Since its founding, IXYS Corporation has been developing power semiconductors and mixed signal ICs to improve power conversion efficiency, generate solar and wind power and provide efficient motor control for industrial applications. IXYS, and its subsidiary companies, offer a diversified product base that addresses worldwide needs for power control in the growing cleantech industries, renewable energy markets, telecommunications, medical devices, transportation applications, flexible displays and RF power.
Featured Product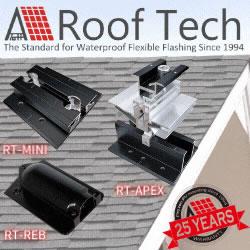 Now Roof Tech brings you the most innovative, watertight mounting systems ever developed for solar photovoltaic systems. Designed and manufactured exclusively for us by Japan's longtime leader in roofing technologies, Roof Tech products are 100% code-compliant and offer fast, simple installation and huge savings on shipping costs due to their compact, rail-less design. Learn more about our full line of versatile PV mounting solutions now available for residential installations. The next generation in rooftop solar mounting solutions."