Renewable Energy Focus of First-of-Its-Kind Event for SEC
BIRMINGHAM, Ala. – Headlined by three keynote addresses from leading energy industry experts, the 2013 Southeastern Conference Symposium, entitled "Impact of the Southeast in the World's Renewable Energy Future," is slated to take place Feb. 10-12, 2013, at the Hyatt Regency Atlanta.

The trio of keynote speakers includes: Dr. Sam Baldwin, Chief Science Officer at the Office of Energy Efficiency and Renewable Energy in the U.S. Department of Energy; Mr. Steven J. Mirshak, Global Business Director for DuPont Cellulosic Ethanol; and Mrs. Susanne Shine, Ambassador (Deputy Chief of Mission) with The Royal Danish Embassy.
The SEC Symposium addresses a significant scholarly issue across the range of disciplines represented by the Southeastern Conference's 14 member universities. This event showcases their academic excellence and underscores their educational and economic contributions to the vitality of the region, nation and world.
This year's event, led by the University of Georgia, will feature a wide variety of presentations from faculty representing each SEC institution, an SEC university showcase, poster exhibitions and a reception with the SEC Presidents, Chancellors and Provosts.
The Symposium will feature sessions on a variety of topics in the area of renewable energy. The opening session is entitled The Big Picture: A New Energy Economy in the Southeast, the U.S. and the World and will feature the event's three keynote speakers.
Baldwin is a Ph.D physicist and currently serves as the Chief Scientist for the Office of Energy Efficiency and Renewable Energy at the U.S. Department of Energy. In previous positions he has served with the White House Office of Science and Technology Policy (OSTP), the National Renewable Energy Laboratory, the Congressional Office of Technology Assessment (OTA), Princeton University, the Sahelian Anti-Drought Committee (CILSS) in West Africa, the U.S. Senate, and elsewhere. He is the author or coauthor of nine books and monographs at OSTP, OTA, DOE, and elsewhere, and more than 30 papers and technical reports on energy technology and policy, physics, and other issues. He was elected as a Fellow of the American Association for the Advancement of Science in 2007.
Mirshak graduated with a degree in chemical engineering from the Georgia Institute of Technology in 1982. He joined DuPont in Martinsburg, West Virginia as a research engineer in the Explosives business. After a variety of manufacturing and research assignments in West Virginia and Illinois he joined DuPont's Finishes business in 1987. In 2006 he was appointed President of DuPont Tate and Lyle Bio Products, a joint venture between DuPont and Tate and Lyle, based in Loudon, Tennessee. DuPont Tate and Lyle utilizes proprietary fermentation technology to convert corn sugar to 1,3 propanediol. Steve was appointed Global Business Director for DuPont's cellulosic ethanol business in 2011. His team is focused on constructing DuPont's first commercial plant in Nevada, Iowa and expansion through joint ventures and technology licensing.
Shine is currently the Deputy Chief of Mission at The Royal Danish Embassy in Washington, D.C. From 2007 to 2012, she was the Ambassador of Demark to Australia, New Zealand (since 2008) and Fiji (since 2009). From 2005 to 2007, she served as Head of Department, at the Trade Council in the Ministry of Foreign Affairs of Denmark. Ambassador Shine has also served as Deputy Head of Mission at the Royal Danish Embassy in Dublin (2003-2005), and in Ottawa (1997-2000), and has held various positions in the Ministry of Foreign Affairs in Copenhagen. Previously Ambassador Shine worked for UNDP in Lesotho (1992-1994). Ambassador Shine holds a Master of International Business degree from Copenhagen Business School, Diploma in American Foreign Policy and Security from American University, Washington, DC, and Bachelor of International Business from the Copenhagen Business School. She has been decorated as Knight of the Order of the Dannebrog (Denmark 2006).
For a complete list of speakers as well as an overview of sessions at the 2013 SEC Symposium, please log on to www.secsymposium.com.
Using its SECU academic initiative, the SEC sponsors, supports and promotes collaborative higher education programs and activities involving administrators, faculty and students at its 14 member universities.
SOCIAL MEDIA AND OTHER WEB SITES:
Twitter: http://twitter.com/theSECU
Web: http://www.secdigitalnetwork.com/AcademicConsortium
About SECU
SECU is the main way the Southeastern Conference sponsors, supports and promotes collaborative higher education programs and activities involving administrators, faculty and students at its fourteen member universities. The goals of the SECU initiative include highlighting the endeavors and achievements of SEC faculty and universities; advancing the merit and reputation of SEC universities outside of the traditional SEC region; identifying and preparing future leaders for high level service in academia; increasing the amount and type of education abroad opportunities available to SEC students; and providing opportunities for collaboration among SEC university personnel.
Featured Product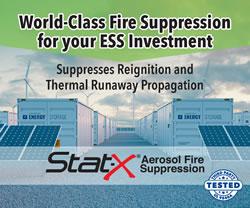 Stat-X® condensed aerosol fire suppression is a solution for energy storage systems (ESS) and battery energy storage systems (BESS) applications. Our Stat-X condensed aerosol fire extinguishing product was tested for efficacy in suppressing li-ion battery fires. It was found that the product successfully extinguished single and double cell battery fires. This testing was conducted in parallel with a large battery fire testing program on behalf of a large energy storage company.