EJOT Solar Fastening Systems, represented by ATF, Inc., introduces its new solution for three tab asphalt shingle roofs. The EJOT Solar Flashing has been developed and manufactured in the US and is available from stock from in Lincolnwood, IL and through many of EJOT's North American solar distributors.
The EJOT Solar Flashing is the first product that offers a secure sealing in three different layers of the roof. The product provides a proven sealing between flashing and fastener (1st sealing), between flashing and upper shingle layer (2nd sealing), and sealing of the penetration through the second shingle layer (3rd sealing). The system provides a strong fastening and watertight sealing features without the need to use third party sealants. Additionally, if the penetration has to take place in a low between two highs, there is no need to shim the low under the flashing with extra asphalt to level out the surface.

Featured Product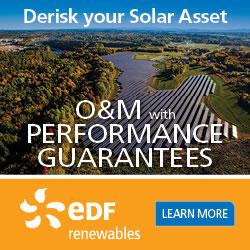 EDF Renewables offers the same innovative solutions that maximize the performance of our own 5.2 GW of installed projects. Because we're not an equipment manufacturer, our recommendations are transparent and data-driven. We cover the entire project lifecycle: from pre-commissioning support, through warranty and post warranty operation, to late stage and decommissioning.