The Renewable Energy Career Days bring employers and employees together
Husum, 29.01.2013 With the new job fair concept Renewable Energy Career Days, Messe Husum & Congress brings together job seekers and potential employers in the renewable energy sector. The stands of exhibitors who are participating in the programme are identified with green Jobs! balloons and a sign on their stand counter. This way jobseekers can tell at a glance who is offering jobs or apprenticeships in the renewable energy industry.

The job fair concept also includes a special show in the NordseeCongressCentrum. On 22 and 23 March, New Energy Husum attendees can find out about the latest job vacancies, training and retraining opportunities with job agencies, staffing agencies and training institutes. A.S.I. Wirtschaftsberatung will also be providing a free service, checking CVs and applications, and advising skilled staff and new talent about finding jobs.
Renewable energy – the job creator
"Renewable energy is a job creator, and there is a need for qualified", says Peter Becker, managing director of Messe Husum & Congress. "The future belongs to renewable energy. With our job fair concept we want to inspire young people and facilitate their entry into the renewable energy sector."
Businesses in Germany's renewable energy sector already employ about 382,000 – more than twice as many as there were eight years ago. The sector employs around 14,000 in Schleswig-Holstein alone, of whom almost 7,000 are employed in the wind sector.
Numerous university courses have been established in recent years that specialise in aspects of renewable energy, and more and more businesses are now providing apprenticeships. According to the Renewable Energy Agency, young people find the combination of business and technology particularly attractive, along with the ecological benefits of renewable energy use.
About New Energy Husum
In recent years, New Energy Husum has established itself as one of the most important trade fairs for the renewable energy sector. Since 2002 it has served as a stage for decentralised energy generation using all kinds of renewable sources. Topics and techniques covered by the fair include small wind turbines (up to 30 kW), biogas, solid biomass (pellets, firewood and wood chips for heating systems), solar heating, photovoltaics, electric vehicles and near-surface geothermal energy, energy storage, energy-efficient building and mini CHPs. From 21 to 24 March 2013 experts and leading manufacturers will be meeting again in the North Frisian town o fHusum to set the course for the innovations needed in what is a rapidly growing market.
Messe Husum & Congress
Catherine Diethelm
Am Messeplatz 12-18
25813 Husum
Tel.: +49 (0)4841 902 - 337
Fax: +49 (0)4841 902 - 246
eMail: diethelm@messehusum.de
www.messehusum.de
Press contact
Press Agency Krampitz
Iris Krampitz / Lea Schmitz
Dillenburger Str. 85
51105 Cologne
Tel.: +49 (0)221 912 49949
Fax: +49 (0)221 912 49948
eMail: contact@pr-krampitz.de
www.pr-krampitz.com
Featured Product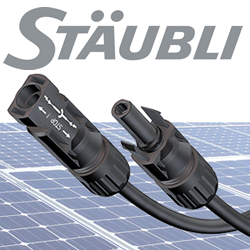 ​Stäubli Electrical Connectors are used on more than 300 GW, over 50% of the PV capacity worldwide. The MC4 family of UL and TUV listed products include connectors, in-line fuses, branch connectors, cable assembly and more.