"The potential applications for solid state DSC will expand the opportunities for taking DSC out of the laboratory and into the global economy"
Queanbeyan, Australia - 30 January 2013 - Australian renewable energy firm, Dyesol Limited, and the Energy Research Institute at Nanyang Technological University (ERI@N) in Singapore have advanced their international research collaboration plans with the formal signing of their Research Collaboration Agreement.

Graetzel at NTU signingThe two-year agreement will see a sharing of resources to create scalable and commercially feasible solid state Dye Solar Cell technology (DSC) technology, a low-cost renewable energy technology that operates efficiently in variable and low-light conditions.
"This collaboration is highly beneficial for both parties and leverages our complementary skill sets," said Dyesol CEO Gordon Thompson. "NTU will provide the innovation inspiration, and Dyesol will provide the development perspiration by scaling-up and testing for durability the small-scale technology that NTU will develop."
"It is a lot of work to go from a test cell to something that is industrially scalable, in terms of performance, durability, and cost, and that is where we spend more time in Australia. By working together to create scalable and commercially feasible solid state DSC we will open up a huge range of applications where we are currently limited with the materials we have," he added.
Under the agreement, NTU and Dyesol will share Intellectual Property (IP) and Dyesol will have the opportunity to take out commercialisation rights for the new IP granted under this agreement.
ERI@N Executive Director, Prof. Subodh Mhaisalkar said the DSC is currently one of the most promising technologies for achieving cost efficient solar cell technologies based on earth abundant and low cost materials such as titanium dioxides.
"In the upcoming projects, we aim to optimise the solid state DSC devices, to high efficiency cells which are more reliable and more amenable to scaling and manufacturing than conventional liquid electrolyte based solar cells. Partnering with the DSC industry leader, Dyesol, is an important synergy for ERI@N as we are making significant impact in the area of solar energy capture and storage."
Nanyang Technological University, a fast rising global university, has many important industry partnerships with prestigious multinational industrial leaders and academic institutions. Dyesol is a key research partner in the university's drive to tackle the important global issue of sustainable energy production for real-world applications.
The project will be overseen by the inventor of Dye Solar Cell technology, celebrated photo-chemist Professor Michael Graetzel, who is Chairman of both the Energy Research Institute at NTU's (ERI@N) Scientific Advisory Board and Dyesol's Technical Advisory Board.
"The potential applications for solid state DSC will expand the opportunities for taking DSC out of the laboratory and into the global economy," said Professor Michael Graetzel.
DSC photovoltaic technology has the ability to be readily integrated into a number building-product, consumer and industrial applications.
About Nanyang Technological University
A research-intensive university, NTU has 33,000 undergraduate and postgraduate students in the four colleges of Engineering, Business, Science, and Humanities, Arts & Social Sciences. The largest campus in Singapore, NTU is also home to four world-class autonomous institutes - the S Rajaratnam School of International Studies, the National Institute of Education, the Earth Observatory of Singapore and the Singapore Centre on Environmental Life Sciences Engineering, and many leading research centres such as the Nanyang Environment & Water Research Institute (NEWRI) and Energy Research Institute @ NTU (ERI@N). A fast-growing university with an international outlook, NTU is putting its global stamp on Five Peaks of Excellence - Sustainable Earth, Future Healthcare, New Media, New Silk Road and Innovation Asia. In 2013, NTU will set up the Lee Kong Chian School of Medicine in Singapore jointly with Imperial College London. For more information, visit www.ntu.edu.sg
The Company - DYESOL Limited
Dyesol is a global supplier of Dye Solar Cell (DSC) materials, technology and know-how. DSC is a photovoltaic technology enabling metal, glass and polymeric based products in the building, transport and electronics sectors to generate energy and improve energy efficiency. Dyesol partners with leading multinational companies who possess significant market share and established routes-to-market. The company is listed on the Australian Stock Exchange (DYE), the German Open Market (D5I), and is trading on the OTCBB (DYSOY) through its depositary BNY Mellon. Learn more: www.dyesol.com
The Technology - DYE SOLAR CELLS
DSC technology can best be described as 'artificial photosynthesis' using an electrolyte, a layer of titania (a pigment used in white paints and tooth paste) and ruthenium dye deposited on glass, metal or polymer substrates. Light striking the dye excites electrons which are absorbed by the titania to become an electric current. Compared to conventional silicon based photovoltaic technology, Dyesol's technology has lower cost and embodied energy in manufacture, it produces electricity more efficiently even in low light conditions and can be directly incorporated into buildings by replacing conventional glass panels or metal sheets rather than taking up roof or extra land area.
Featured Product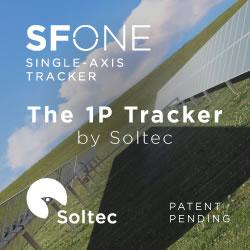 SFOne is the 1P single-axis tracker by Soltec. This tracker combines the mechanical simplicity with the extraordinary expertise of Soltec for more than 18 years. Specially designed for larger 72 an 78 cell modules, this tracker is self-powered thanks to its dedicated module, which results into a lower cost-operational power supply. The SFOne has a 5% less piles than standard competitor, what reduces a 75% the labor time.