Combined efforts of leading global facilities will speed technological advancements in Carbon Capture market
London, 31st, January 2013, CO2 Technology Centre Mongstad (TCM) has today announced the formation of an international test centre network for carbon capture test facilities around the world to share knowledge to accelerate the commercialisation of technology.

The key aims of the CCS Test Centre Network are to share knowledge of technological developments, construction and operational experience, establish performance indicators, and promote technology standardization. Overall the network will establish a level playing field for technology vendors to reduce costs, plus technical, environmental and financial risks associated with CCS. CCS is the only technology that can significantly reduce CO2 emissions from fossil fuel combustion in power stations and industrial processes, by up to 90 per cent.
Commenting on the establishment of the test centre network from the Platts European Carbon Capture & Storage conference 2013, Tore Amundsen, CEO of Gassnova and Chairman of CO2 Technology Centre Mongstad), said:
"This is absolutely the right time to launch this knowledge sharing network. Every day, in test centres around the world, we see advancements in CCS technology with new experiences, lessons and solutions being developed. However, this knowledge is often not shared because there has been no appropriate forum for doing so. This network will change that for the benefit of everyone."
The seven founding members of the Test Centre Network are CO2 Technology Centre Mongstad (Norway), National Carbon Capture Center (Alabama, US), Southern Company's 25 megawatt CCS demonstration facility (Alabama, US), J-Power (Japan), ENEL Engineering and Research (IT), E.ON (Germany) and DOOSAN Power (UK). The Network is open for further large CCS test centers and therefore publicly invites them to join.
The key aims of the network are to:
1. Gain public confidence: enabling test centres to build on good practice from around the world and communicate successes to the public and wider CCS community.
2. Address regulator concerns: enabling test centres to individually address concerns of regulators and influence regulatory arenas by using the collective thinking and experience of network members.
3. Improve organizational efficiency: by providing members with a global network of experts and expertise to facilitate mutual problem solving around organisational issues.
4. Safeguard our people: by sharing good practice in Health, Safety and Environment (HSE), to protect staff, assets and the environment.
5. Accelerate technology development: By harmonising the testing requirements, the network will create a level playing field that will help break down barriers to successful uptake of capture technologies.
More information on the facility, including how companies can participate, can be found at http://www.tcmda.com .
About CO2 Technology Centre Mongstad
CO2 Technology Centre Mongstad (TCM) is the world's largest facility for testing and improving CO2 capture. The center comprises two CO2 capture plants each with a capacity to capture approximately 80,000 tons of CO2 from the nearby refinery or 20,000 tons from a gas fired power plant. In addition the center has available space and infrastructure to sustain more technologies to be tested in the future. TCM is a joint venture between the Norwegian state, Statoil, Shell and Sasol. Since the Mongstad test centre was first conceived in 2006, by the Norwegian state and Statoil, a myriad of organisations have come together to form a partnership to develop CCS, including Shell, Sasol, Aker Solutions and Alstom.
Featured Product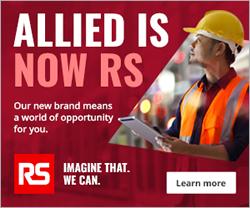 Moxa is a leader in edge connectivity, industrial computing, and network infrastructure solutions for enabling connectivity for the Industrial Internet of Things. With over 30 years of industry experience and 65 million devices connected worldwide, Moxa has a distribution and service network to serve customers in more than 80 countries. Now at Allied-find over 1,000 products from Ethernet switches, protocol converters, routers, and more. Allied Electronics & Automation, part of RS Group & Automation, part of RS Group is an authorized distributor of Moxa.