Rivière-du-Moulin Wind Project will be the largest wind energy facility in Canada with a single Power Purchase Agreement when commissioned.
MONTREAL--EDF EN Canada Inc., a subsidiary of EDF Energies Nouvelles, is pleased to announce that the Government of Quebec has issued the decree authorizing the construction and operation of the 350 MW Rivière-du-Moulin wind project. In addition, the company has placed an order with turbine supplier REpower Systems SE for the project.

Rivière-du-Moulin Wind Project, located in the unorganized territory (UT) of Lac-Pikauba in the MRC de Charlevoix and the UT of Lac-Ministuk in the MRC du Fjord-du–Saguenay, will be the largest wind energy facility in Canada with a single Power Purchase Agreement when commissioned. The wind farm will be developed in 2 phases: the first tranche of 150 MW is expected to begin construction in 2013 and reach commissioning in December 2014. The second tranche of 200 MW is scheduled for commissioning in December 2015.
"Obtaining the decree is of great importance as it marks the confirmation from the Government to move forward with the project and provides the confidence to place a major procurement contract. We extend our gratitude to the Government of Quebec for recognizing the significance of wind energy as it continues to generate clean electricity and jobs for the province," said Al Kurzenhauser, COO of EDF EN Canada. "We further recognize and appreciate our long-term partnership with REpower. Together our companies have now commissioned 1,275 MW throughout North America."
Rivière-du-Moulin represents the fourth and largest project of the seven awarded to EDF EN Canada in 2008 and 2010 through Hydro-Quebec Distribution's call for tenders. By the end of 2015, EDF EN Canada will have developed and built a total of 1,003.2 MW in the province.
Alex Couture, Project Development Director for EDF EN Canada, added, "With an investment of close to $800 million, the project will create about 300 jobs during the construction phase, and 20 permanent operation and maintenance jobs."
Helmut Herold, Managing Director of REpower's Canadian subsidiary, REpower Systems Inc., commented, "The contract signature for Rivière-du-Moulin is another great success for REpower in Canada that greatly contributes to the local economy. EDF EN Canada and REpower agreed to an ambitious delivery date which in turn will help maintain existing jobs as well as create additional employment opportunities in the Quebec wind industry."
REpower will supply the wind turbines. LM Wind Power will supply the blades from their Gaspé plant; towers will be produced at Marmen's Matane plant; and SEG Woodward will assemble the electrical converters in New Richmond.
About EDF EN Canada Inc.:
EDF EN Canada, an EDF Energies Nouvelles Company, is a market leader in renewable energy development, with an integrated approach that covers every aspect of project origination and implementation through to electricity generation, operations and maintenance. The company offers financial strength, technical innovation and an unmatched commitment to customer service. EDF EN Canada draws on the market leadership of EDF Renewable Energy, formerly enXco, EDF EN's American affiliate. EDF Energies Nouvelles is a subsidiary of the EDF group. www.edf-energies-nouvelles.com www.edf-en.ca
Featured Product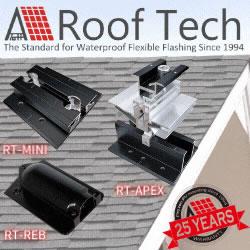 Now Roof Tech brings you the most innovative, watertight mounting systems ever developed for solar photovoltaic systems. Designed and manufactured exclusively for us by Japan's longtime leader in roofing technologies, Roof Tech products are 100% code-compliant and offer fast, simple installation and huge savings on shipping costs due to their compact, rail-less design. Learn more about our full line of versatile PV mounting solutions now available for residential installations. The next generation in rooftop solar mounting solutions."