Johannesburg, South Africa ó February 4, 2013
The Dow Chemical Company today reiterated its commitment to the growing solar power industry in South Africa as it prepares to exhibit its innovative range of solutions at the CSP Today South Africa 2013 2nd Concentrated Solar Thermal Power Conference & Expo. The event takes place on February 4-5, at the Southern Sun Pretoria hotel in Pretoria, South Africa. The Company is exhibiting in booth #6.

In line with its commitment to sustainability, Dow is bringing next-generation technology and support to the South African market to harness the power of the sun and convert it into cost-effective energy. Dow is the largest specialty chemical company in the world, and its range of technologies reflects the Company's total solutions approach to the Concentrated Solar Power (CSP) industry's needs.
Dow provides the world's leading fluid, DOWTHERM™ A, a specialized High Temperature Heat Transfer Fluid (HTTF) used in more than 30 of the largest CSP projects around the world, with a total power generation capacity of more than 1.5 GW. CSP uses parabolic mirrors to reflect and magnify heat from the sun onto a closed circulating loop containing DOWTHERM™ A heat transfer fluid. The fluid collects the heat energy and transports it to a power station where it is used to produce steam, which drives turbines to generate electricity. DOWTHERM™ A has a more than 80-year track record in high temperature service, with an ability to withstand temperatures up to 400° C. Its proven heat transfer efficiency, stability, and low viscosity throughout its entire operating range have made DOWTHERM™ A the leading fluid for CSP projects globally.
"Dow applies a total solution approach to serving the growing Concentrated Solar Power industry," said Carolina Barrios, Marketing Manager for Dow Heat Transfer Fluids. "Through our advanced fluid technology, world-scale production capacity, tailored supply chain and logistics capabilities, in-depth technical support, and fluid regeneration opportunities, Dow is best placed to support our CSP customers' success and the industry's growth."
In addition to meeting the demand for the High Temperature Heat Transfer Fluids needed for CSP installations, Dow also offers a diverse range of engineering support services and training programs to help operators monitor and maintain fluids, ensuring maximum system efficiency with minimum downtime. The Company also provides production and logistic solutions to meet the high volume fluid requirements of CSP plants. Included are complex fluid staging and delivery systems to meet narrow installation timeframes at plants in often remote locations.
Dow's commitment to CSP innovation includes advancements in CSP system technology. The Company's innovative dual loop CSP design improves efficiency and lowers operational costs by leveraging the proven reliability of DOWTHERM™ A and the high temperature capabilities of molten salt to produce 10 percent more electricity than a conventional CSP system with the same size solar field.
Dow also offers a diverse range of engineering support services and training programs to help operators monitor and maintain fluids, ensuring maximum system efficiency with minimum downtime.
The Advantages of CSP
Solar power technology like CSP offers many advantages in regions that require reliable new sources of energy. The technology helps diversify energy supply, is capable of producing power during periods of peak demand, and reduces dependence on fossil fuels. When used instead of fossil fuel generation plants, CSP facilities offer improved air quality and can help many nations to address off-set goals for carbon emission produced by existing fossil fuel power plants. Unlike photovoltaic solar power and wind energy technologies, CSP plants can operate in conjunction with cost-effective thermal storage technology to deliver energy on-demand, making CSP a highly flexible source of renewable energy.
About Dow
Dow (NYSE: DOW) combines the power of science and technology to passionately innovate what is essential to human progress. The Company connects chemistry and innovation with the principles of sustainability to help address many of the world's most challenging problems such as the need for clean water, renewable energy generation and conservation, and increasing agricultural productivity. Dow's diversified industry-leading portfolio of specialty chemical, advanced materials, agrosciences and plastics businesses delivers a broad range of technology-based products and solutions to customers in approximately 160 countries and in high growth sectors such as electronics, water, energy, coatings and agriculture. In 2012, Dow had annual sales of $57 billion and employed approximately 54,000 people worldwide. The Company's more than 5,000 products are manufactured at 188 sites in 36 countries across the globe. References to "Dow" or the "Company" mean The Dow Chemical Company and its consolidated subsidiaries unless o
otherwise expressly noted. More information about Dow can be found at www.dow.com.
About Dow in Africa
Dow established its first sales office in Africa more than 50 years ago. Today the company enjoys a growing commercial and manufacturing presence with 11 locations across the continent in Algeria, Egypt, Ghana, Kenya and South Africa. Dow's growing presence in Africa demonstrates the company's commitment to the continent and aims to deliver industry leadership, technical innovation and expertise with a commitment to sustainability to help transform the region into a key player in the global chemicals industry. Dow is focusing all its efforts towards being an active social and community member and an employer and partner of choice on the continent. Through innovative and sustainable initiatives like the Habitat for Humanity project in Kenya, Egypt and South Africa and the Dow Mobile Science lab in South Africa, Dow is playing a pivotal social and development role in the region. Dow serves approximately 700 customers across 38 countries in Africa. For more information about Dow in Africa, please visit www.dow.com/africa
For editorial information:
Leigh-Ann Lanier
Dow Chemical IMEA GmbH
+27 115751038
LALanier@dow.com
Pheliswa Mayekiso
Corporate Communication Consultants –
Affiliate of Hill+Knowlton Strategies
+27 11 463 2198
pheliswa@corpcom.co.za
Featured Product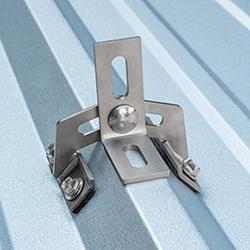 Explore new lines of income for your solar installation business with QuickBOLT's Stone Coated Steel roof mounts designed in partnership with metal roof manufacturers themselves. These SCS roof mounts work on all metal tile profiles and will help you bring in money you're missing out on. By not driving into the roofing material, QuickBOLT's Stone Coated Steel roof hooks maintain the integrity of the roof. Install with ease and confidence knowing your roof is protected against the harsh elements that these hooks are designed for.