Volkswagen Group of America Chattanooga Operations, LLC USES on-site Solar Power and partners with EPA***** Volkswagen Chattanooga Solar Park is BIGGEST SOLAR INSTALLATION AT ANY U.S. AUTO FACTORY
Chattanooga, TN, 4 February 2013- Volkswagen Group of America Chattanooga Operations, LLC announced today that for the first time it appears as No. 11 on the U.S. Environmental Protection Agency's (EPA's) Top 20 On-site list of the largest green power purchasers. Volkswagen Group of America Chattanooga Operations, LLC hosts an on-site solar array, where more than 13 million kilowatt-hours (kWh) of green power annually are generated, which is enough green power to meet 12 percent of the organization's electricity use. The Volkswagen Chattanooga Solar Park is the biggest solar installation at any U.S. auto factory.

"This is a huge honor and we are proud to be recognized by the U.S. Environmental Protection Agency," said Frank Fischer, CEO and Chairman of Volkswagen Chattanooga. "Using green power helps our organization to improve our environmental efficiency according to Volkswagen's Think blue. Factory strategy and confirms our status as the only LEED Platinum certified auto plant in the world."
Green power is electricity that is generated from environmentally preferable renewable resources, such as wind, solar, geothermal, biogas, biomass, and low-impact hydro. On-site green power is deployed directly at energy users' facilities rather than at central power plants. Green power electricity generates less pollution than conventional power and produces no net increase in greenhouse gas emissions.
"EPA is excited to welcome Volkswagen Chattanooga as a Green Power Partner and applauds the organization's impressive use of on-site solar power," said Blaine Collison, Director of EPA's Green Power Partnership. "Volkswagen Chattanooga is helping to reduce harmful air pollution and demonstrating that using green power is smart for the environment and for business."
According to the U.S. EPA, Volkswagen Group of America Chattanooga Operations' on-site green power generation of more than 13,000,000 kWh is equivalent to avoiding the carbon dioxide (CO2) emissions from the electricity use of more than 1,000 average American homes annually.
Volkswagen Group of America, Chattanooga Operations LLC. runs the first and only automotive plant worldwide that was awarded with the LEED Platinum certification of the U.S. Green Buildings Council. Its new paint shop saves the use of 20,000 gallons of water per day by its innovate dry scrubber technology, while its water harvesting system provides about 6 million gallons of water annually for restrooms and cooling circuits in the body shop. The plant is certified according to ISO 14001 for its environmental management system and according to ISO 50001 for its energy management system.
About Volkswagen Group of America Chattanooga Operations, LLC
Volkswagen has invested $1 billion in the local economy for the Chattanooga plant and has created more than 5,000 jobs in the region. According to independent studies, the Volkswagen plant is expected to generate $12 billion in income growth and an additional 9,500 jobs related to its investment. The Chattanooga manufacturing facility builds the US Passat Sedan, specially designed for the North American market and winner of the Motor Trend magazine 2012 Car of the Year award. In 2012, it has produced more than 152,400 Volkswagen Passats.
About EPA's Green Power Partnership
The Green Power Partnership is a voluntary program that encourages organizations to use green power as a way to reduce the environmental impacts associated with electricity use. The Partnership currently has nearly 1,400 Partner organizations voluntarily purchasing billions of kilowatt-hours of green power annually. Partners include a wide variety of leading organizations such as Fortune 500® companies, small and medium sized businesses, local, state, and federal governments, and colleges and universities. For additional information, please visit http://www.epa.gov/greenpower.
Featured Product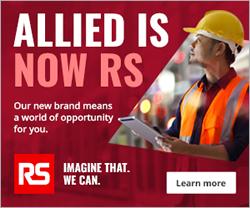 Moxa is a leader in edge connectivity, industrial computing, and network infrastructure solutions for enabling connectivity for the Industrial Internet of Things. With over 30 years of industry experience and 65 million devices connected worldwide, Moxa has a distribution and service network to serve customers in more than 80 countries. Now at Allied-find over 1,000 products from Ethernet switches, protocol converters, routers, and more. Allied Electronics & Automation, part of RS Group & Automation, part of RS Group is an authorized distributor of Moxa.