Companies extend partnership to foster growth in emerging territories
PRESERJE, BREZOVICA, SLOVENIA – February 5, 2013 - Upsolar a leading international provider of solar PV modules, today announced the company will now offer its full suite of modules to customers in Serbia and Croatia through an exclusive distribution partnership with Plan-net Solar, an experienced solar services provider for customers across the Balkans. Entry into these regions enables Upsolar to further expand its reach within promising markets throughout Europe.

Plan-net Solar—which recently launched offices in Bestovje, Zagreb, Croatia and Šimanovci, Vojvodina, Serbia—first collaborated with Upsolar in 2009, when the companies inked an exclusive supply agreement for the Slovenian market. Plan-net Solar is currently installing a 40 kW project featuring Upsolar modules in Serbia, positioning the companies among the first players in this market.
"Throughout our experience in Slovenia, Upsolar has clearly demonstrated both the exceptional performance of its products and the unmatched diligence of its team," said mag. Marko Femc, General Manager of Plan-net Solar. "We are encouraged by our success in the region and look forward to achieving similar results across these new territories in the coming years."
In 2013, the Serbian and Croatian markets are expected to reach 10 MW and 15 MW of installed solar capacity, respectively, up from just 100 kW and 8 MW at the end of 2012.
"Upsolar has a history of moving deftly into new markets to help accelerate solar energy adoption in regions with major growth potential," said Anne Torricelli, Senior Global Key Account Manager for Upsolar. "Bolstered by the support of a locally respected partner like Plan-net Solar, we are already one step ahead of the pack in our work to expand renewable energy use in Serbia and Croatia."
Featured Product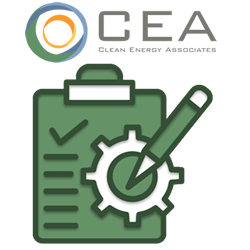 Clean Energy Associates provides a complete quality assurance solution that covers the entire product lifecycle of PV modules, storage systems, and every Balance of Sy stem (BOS) component. CEA's experienced on-the-ground and international team of quality control engineers and account managers offer an unparalleled quality assurance presence that can protect solar and storage investments and ensure future energy-producing viability for the life of the product.