waste to energy+recycling / CLEAN GAS AND COAL: Delegates come from around the world – programme includes expert talks and critical discussions
On February 19, the State Environment Minister of Bremen, Dr. Joachim Lohse, opens the combined event "waste to energy+recycling" and CLEAN GAS AND COAL. The joint motto is security of supply with energy and raw materials. In addition to the exhibition with some 70 companies and research facilities, more than 50 conference presentations provide uptodate insight into the market and technology. The event is organised by Freesen & Partner GmbH and is held on February 19 to 20, 2013.

Great Britain, Poland and Turkey are partner countries of the exhibition. Further, visitor delegations from Russia, Ukraine and North Africa announced their participation. There will be simultaneous translation for several conference tracks, including the opening ceremony and panel discussions, which cast a critical light on the current market developments.
At the opening ceremony of the "waste to energy+recycling" / CLEAN GAS AND COAL four panelists talk about how security of supply and grid stability can be achieved in the most environmentally friendly way. The speakers include Environment Minister Dr. Joachim Lohse; Dr. Torsten Koehne, Member of the Board of the local utilities companies swb AG and EWE AG; Gerd Mehler, Managing Director of waste management companies and energy park operators Main-Taunus-Recycling GmbH and Rhein-Main-Deponie GmbH; and Dr. Volker Steinbach, Head of Energy Resources and Mineral Resources at the German Raw Materials Agency.
Full conference programme, exhibitor list and more information on the event:
http://www.wte-expo.de and http://www.cgac.de
The "waste to energy+recycling", February 19 to 20, 2013, is held in Bremen for the seventh time, together with the event premiere of the CLEAN GAS AND COAL. Organiser Freesen & Partner GmbH is a consulting firm specalised in the energy and environmental technology markets. Freesen & Partner puts together trade exhibitions and conferences in Germany, Europe and North America. In addition to this, the company assists its clients in exploring new markets and recruiting key personnel. http://www.freesen.de
Organiser contact:
Dr. Ines Freesen, Freesen & Partner GmbH
Schwalbennest 7a, 46519 Alpen, Germany
Tel.: +49 (0) 2802 - 94 84 840
Fax: +49 (0) 2802 - 94 84 843
info@wte-expo.de / info@cgac.de
Featured Product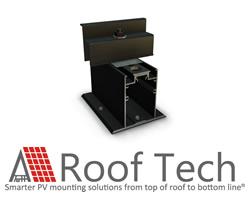 The most compact versatile rail-less PV mounting system under the sun. Instead of placing solar panels on top of long rails, simply attach E Mount AIR to rafters or the roof decking. Once panels are fastened to the roof, the system array is electrically bonded. The result is a visually seamless PV installation that stands the test of time. - Truly "One With The Roof". - PE stamped cert. letters available, UL 2703 Classified, ASTM 2140 fully waterproof. The one and only with integrated flexible flashing certified by the ICC! All the best quality. Only from Roof Tech