TÜV SÜD was one of the first certification bodies for biofuels and other bioliquids to gain accreditation by the Federal German Agency for Agriculture and Food (BLE) in 2010. Now TÜV SÜD obtained further accreditation for the testing of waste and residual materials in accordance with 36th BImSch.
1 January 2013 was an important date for companies operating in the collection of waste and residual materials. With effect from this date, the 36th BImSchV (36th Ordinance on the Implementation of the Federal Immission Control Act) now requires these companies to furnish proof of certification in accordance with REDcert-DE or ISCC DE for the first time.

The requirements of the 36th BImSchV extend to companies gathering waste and residual materials and processing companies that treat themor use them to produce fuels.
"Since biofuels made from waste and residues can be counted twice towards the fulfilment of the EU target, reliable end-to-end certification of the entire supply chain is imperative", says Igor Dormuth, Project Manager Biofuel Certification at TÜV SÜD Industrie Service GmbH. "Critical aspects in this process are reliable and transparent criteria defining sustainable biomass use. Without them, the reputation of biofuels as an important building-block within the scope of energy from renewable sources will be impossible to preserve."
TÜV SÜD Industrie Service GmbH carries out certification in accordance with the internationally recognised REDcert and ISCC (International Sustainability and Carbon Certification) certification schemes and supports market participants throughout the manufacturing and supply process.
Contact: TÜV SÜD Industrie Service GmbH, Carbon Management Service, Igor Dormuth, Email: igor.dormuth@tuev-sued.de, Telephone / Fax: +49(0)89/5791-2429/-2756.
Featured Product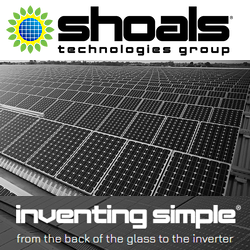 Inventing Simple® isn't just a slogan to us, it's a way of life. Using simple plug-and-play ideology, we revolutionized solar installations in 2003 with our Interconnect System™. Our harnessing system is now the gold standard EPC's use around the world. By using simple ideas, we are making solar energy a more affordable and clean power source for future generations.