ACORE Event Highlights Industry Progress, Outlines Policy Path for Continued Growth
WASHINGTON--Secretary of the U.S. Department of Interior Ken Salazar joined industry, financial and government leaders today on Capitol Hill at the American Council On Renewable Energy's (ACORE) National Renewable Energy Policy Forum to recognize the progress for renewable energy and call for renewed bi-partisan support for expanding America's domestic energy sources.

"Renewable energy plays a critical – and ever expanding – role in our nation's domestic energy production, an important part of the President's energy strategy," said Salazar. "The 34 renewable energy proposals for public lands approved under this Administration generate jobs and economic development while encouraging innovation and private investment in renewable energy sources. We need to continue these investments in coming years."
Renewable energy sources accounted for nearly half of all new domestic electrical generating capacity in 2012, making it the fastest growing energy segment. Renewable energy also shows signs of approaching cost parity with traditional energy sources. Vice Admiral Dennis McGinn, president and CEO of ACORE, pointed to research showing the cost for electricity produced from new onshore wind farms will be lower than new advanced or conventional coal plants by 2017 as a clear incentive for the public sector to pursue policies that encourage continued renewable energy growth and innovation.
"Now is not the time to fetter the progress and achievements of the renewable energy industry. We must pursue federal and state policies that unlock new sources of capital from the private sector and create market certainty," said Vice Admiral McGinn. "The clean energy economy that is being created addresses societal concerns about our economy, health and the environment. Renewable energy leverages public investment to create jobs while making us more secure and benefiting our environment."
American investment in energy production dates back to land grants for coal and timber in the 1800s. In recent years, increased private sector investment and new federal and state policies for renewables have helped reduce costs, increase production, generate new jobs throughout the country, and spur innovation, according to ACORE Policy Forum co-chairs Roger Ballentine, president of Green Strategies and Kathleen McGinty, senior VP and managing director for strategic growth, Weston Solutions.
"There has been more than $500 billion in private sector investment in renewable energy technology in the past two years," said Ballentine. "At the same time, the cost of solar, wind and other renewable energy sources continues to decline."
"America has an opportunity to capture significant portions of the clean energy marketplace, not only domestically, but throughout the world," added McGinty. "Creating a clean energy economy is vital to boosting our economy. More renewable energy leverages investment, creates jobs, and helps the environment. It is a win-win for everyone."
The ACORE National Renewable Energy Policy Forum (http://www.acorepolicyforum.com) is an annual event that brings together high-level speakers from government, business and non-profits to discuss the critical energy policy issues surrounding renewable energy, energy efficiency, sustainable development, the environment and related fields.
About ACORE:
ACORE, a 501(c)(3) non-profit membership organization, is dedicated to building a secure and prosperous America with clean, renewable energy. ACORE seeks to advance renewable energy through finance, policy, technology, and market development and is concentrating its member focus in 2013 on National Defense & Security, Power Generation & Infrastructure, and Transportation. Additional information is available at www.acore.org.
Featured Product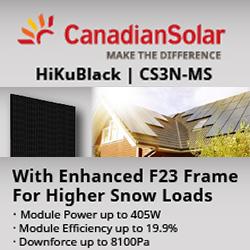 Aesthetic appearance for residential systems: With black backsheet & black frame, Power range 380 ~ 405 W, Low power loss in cell connection. Enhanced reliability: · Low temperature coefficient (Pmax): -0.34 % / °C, LID LeTID less than 2.0%, Lower hot spot temperature, Better shading tolerance.