Now consumers can seamlessly finance home charger and installation with electric vehicle (EV) purchases in a single transaction***** Finance and Insurance (F&I)-friendly packages present opportunities for dealers to improve their EV Customer Satisfaction index***** AeroVironment's home charger reduces charging time by more than half to 120 Volt Level 1 plug-in that comes standard with most EVs
MONROVIA, Calif., Feb. 7, 2013 – AeroVironment, Inc. (NASDAQ: AVAV) today launched a dealer program that provides turnkey residential charging packages to consumers purchasing new electric vehicles (EVs) or plug-in hybrids (PHEVs) and allows them to finance the charger in combination with the vehicle at the time of sale. The program, which is the first of its kind, makes dealerships one-stop-shops for EV drivers and expands dealers' F&I product offerings.

AeroVironment is exhibiting the program at the National Automotive Dealers Association Convention and Expo in Orlando, Florida (Booth #3953) this week.
EVs and PHEVs typically come equipped with a Level 1 120 Volt charger. Through AeroVironment's dealer program, new owners can now purchase an EVSE-RS Level 2 240 Volt residential charging station that reduces charge time by more than half, from up to 22 hours to between 3 and 8 hours.
"AeroVironment has decades of experience providing complete charging solutions that support the practical transition to electric vehicles," said Wahid Nawabi, AeroVironment senior vice president and general manager of its Efficient Energy Systems business segment. "With our new dealer program, AeroVironment is putting the second half of the EV equation – the home charger – at the vehicle's point of sale. This makes it easier for drivers to purchase, and for dealers to participate more actively in the evolution toward clean, electric transportation."
Dealers can offer various warranty options that match the financing terms of the vehicle. Chargers bought through the dealer program are installed by a licensed electrician certified in EV charging installation. If needed, AeroVironment also provides at-home, in-person support.
To ensure dealers and consumers realize the maximum value from the new program, AeroVironment provides dealers with one-on-one and online training to familiarize them with it. AeroVironment provides dealers with point-of-purchase marketing support including home charging displays, window stickers and consumer brochures. The company also offers both Level 2 and DC "fast" charging stations for use in dealer service bays and customer parking areas.
"AeroVironment offers state-of-the-art products and our customers have been extremely satisfied with the service," said James Azzaro, commercial vehicle sales manager at John Howard Motors in Morgantown, WV. "The AeroVironment dealer program provides a complete, seamless experience for our customers. Not only does it make us a one-stop-shop, but it also guarantees support for our customers from a company that cares."
Dealers attending the NADA conference in Orlando, Fla. can learn more by visiting AeroVironment at booth #3953 or by attending its cocktail reception February 9, 2013, from 5:30 p.m. to 8:00 p.m. at The Peabody Hotel. To sign up for the dealer program, contact AeroVironment at 888-499-8759 or email dealers@avinc.com.
AeroVironment is the preferred home charging supplier of the Nissan LEAF®, BMW ActiveE, and Mitsubishi i-MiEV. The company's broad line of home charging systems includes the standard Level 2 home charging system and a do-it-yourself wall-mounted "plug-in" unit that is available for dealer stock. More information on AeroVironment's EV charging solutions can be found at www.evsolutions.com.
About AeroVironment, Inc.
AeroVironment is a technology solutions provider that designs, develops, produces, operates and supports an advanced portfolio of electric transportation solutions and electric-powered Unmanned Aircraft Systems (UAS). AeroVironment's comprehensive EV charging solutions include EV home charging, public charging, fast charging, data collection, grid-integrated communications and complete installation, training and support services for consumers, automakers, utilities, government agencies and businesses. AeroVironment's industrial electric vehicle charging systems support thousands of electric materials handling vehicles in mission-critical supply chains for Fortune 500 enterprises. AeroVironment's power cycling and test systems provide EV developers and EV battery manufacturers with market-leading simulation and cycling capabilities. Agencies of the U.S. Department of Defense and allied military services use the company's electric-powered, hand-launched unmanned aircraft systems to provide situational awareness to tactical operating units through real-time, airborne reconnaissance, surveillance and communication. More information is available at www.avinc.com and www.evsolutions.com.
Featured Product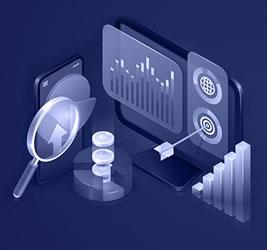 At Precedence Research we combine industry-leading insights with ground-breaking research techniques to help our clients successfully address their unique business challenges and achieve mission-critical goals. Our suite of services is designed to give tailwinds to businesses.