Morgan Technical Ceramics will be showcasing a wide range of ceramic materials, components and assemblies, at the Medical Design & Manufacturing West (MD&M West) Conference and Exposition 2013, taking place February 11-14, 2013, in Anaheim, CA, Booth #3498.
The extensive range of products for medical devices on display at MD&M West demonstrates MTC's superior capabilities in the medical market. These include custom ceramic sensors and transducers where MTC offers more than 30 formulations of piezoelectric materials that can be manufactured into standard and custom sizes and shapes, HIP Vitox® ceramic femoral heads, which are mechanically and chemically stable and bio-inert and advanced ceramic components for therapeutic equipment.

Therapeutic equipment components to be showcased include metalized ceramic RF windows, medical linear accelerator (LINAC) metallized rings as well as feedthroughs and high power insulators for cyclotrons. Brazed assemblies which act as feedthroughs are typically used within X-ray tubes in positron emitting tomography and computed tomography scanners as well as in MRI technology or within proton therapy equipment as high voltage, high power insulators. These ceramic and assembly components also feature vacuum integrity, good thermal conductivity, and high electrical volume and surface resistance.
Metallised ceramic rings and RF windows provide low dielectric loss at high frequency and high mechanical strength and are used inside medical accelerators.
Also being exhibited at MD&M West will be PZT (lead zirconate titanate) high dielectric materials in 1-3 and 2-2 composites. Additionally, MTC's high drive materials enable efficient and small medical tools such as bolt clamped langevin transducers for dental descaling and ultrasonic scalpels. Additionally, the booth will feature in-line sensors used in infusion and enteral feeding pumps, dialysis equipment and general fluid handling equipment, including air-in-line, occlusion and flow sensing. MTC's piezo ceramic in-line sensors include a standard bubble detector for a 4-5 millimeter (mm) tube, designed to minimize their footprint, with a short flexi circuit for easy connection. Contact pressure sensors based on piezo resistivity are designed to detect blockages in infusion lines, detecting both negative and positive pressure changes.
Ultrasonic sensors include those used for in-line flow measurement, which combine precision machined mechanical parts with advanced piezoelectric components to provide accurate flow measurement of de-aerated liquids, such as blood, saline and water in medical grade tubing.
Application engineers will be on hand to discuss MTC's capabilities for customizing sensor designs to suit specific OEM needs, including housing geometry, color, and adaptation to specific tubing and environmental conditions, mounting arrangement, or interface with a disposable cassette.
HIP Vitox® ceramic-on-ceramic hip joints, manufactured from a high quality alumina, can withstand high shock without fracture. The high material hardness and scratch resistance mean that the ceramic femoral heads reduce the amount of polyethylene cup wear compared to that of metal heads. The company's HIP Vitox® ceramic-on-ceramic hip joints have demonstrated an exceptionally low wear rate of just 0.032mm3/million cycles. They are available in sizes from 28mm to 60mm; the larger head sizes provide increased range of motion and have an even lower wear rate as load is spread over a larger surface area.
MTC's piezoelectric ceramic manufacturing facilities are ISO 9001 and 14001 registered and several sites are certified under the ISO13458 standard for designing and manufacturing medical devices.
For further information, please contact:
Kristin Nugent, 617-367-0100 x148
Kristin.nugent@mgr1.com
Scott Bentley, +44 (0) 1299 872217
Scott.Bentley@morganplc.com
About Morgan Technical Ceramics
Morgan Technical Ceramics manufactures components and sub-assemblies using an extensive range of materials, including structural and piezoelectric ceramics, dielectrics, braze alloys, and specialist coatings. It works with manufacturers' design and R&D teams at local, national and international level on projects from concept and feasibility studies through prototype development to full production. The business employs some 2,500 people and has 23 manufacturing sites worldwide across Europe, the US, Mexico, China and Australia.
Morgan Technical Ceramics is a business within the Morgan Ceramics Division of The Morgan Crucible Company plc, one of the world's leading advanced materials companies. The company specialises in the design, manufacture and marketing of ceramic and carbon products which are used in a wide range of applications, from transport and telecommunications to fire protection and medical instruments. Morgan Crucible is listed on the London Stock Exchange in the engineering sector.
For more information on Morgan Technical Ceramics visit www.morgantechnicalceramics.com or contact one of our sales offices below:
Europe
Morgan Technical Ceramics, Bewdley Road, Stourport, Worcestershire, DY13 8QR.
Tel +44 (0)1299 872210 Fax +44 (0)1299 872218
Email mtcuksales@morganplc.com
North America
Morgan Technical Ceramics, 26 Madison Road, Fairfield, NJ 07004, USA
Tel +1 800 433 0638 Fax: +1 973 227 7135
Email mtcussales@morganplc.com
Asia
Morgan Ceramics
150 Kampong Ampat, #05-06A KA Centre, Singapore 368324
Tel +65 6595 0000 Fax +65 6595 0005
Email asia.mc@morganplc.com
South America
Morgan Technical Ceramics
83 Rua Darcy Ribeiro, Santa Cruz, CEP 23567-190,Brasil
Tel +55 (21) 3305 7400 Fax +55 21 2418 1205
Email: brazilsales.mtc@morganplc.com
Featured Product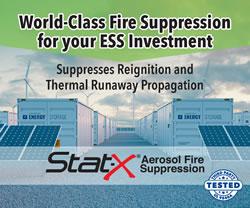 Stat-X® condensed aerosol fire suppression is a solution for energy storage systems (ESS) and battery energy storage systems (BESS) applications. Our Stat-X condensed aerosol fire extinguishing product was tested for efficacy in suppressing li-ion battery fires. It was found that the product successfully extinguished single and double cell battery fires. This testing was conducted in parallel with a large battery fire testing program on behalf of a large energy storage company.