Resources focused on the global energy market
CHARLOTTE NC, February 11, 2013 - The Automation Group of Parker Hannifin Corporation (NYSE: PH), the global leader in motion and control technologies, announced the formation of its new Energy Grid Tie Division. This division is located in Charlotte, NC, and will work with the company's SSD Drives Division, which was the initial source of much of its technology.

The creation of the Energy Grid Tie Division will permit the SSD Drives Division to remain focused on industrial automation and mobile drives markets, whereas the new division is dedicating its resources to the global energy market.
The new Energy Grid Tie Division is focusing its operational and global growth strategies on utility scale power conversion and energy storage products and technology. Its products are used to support the rapidly expanding renewable energy market and the associated energy storage requirements needed to integrate renewable sources and to improve utility grid stability and quality. Jim Hoelscher will lead the new division as General Manager. For more information on the new division, please visit www.parker.com/egt
With annual sales exceeding $13 billion in fiscal year 2012, Parker Hannifin is the world's leading diversified manufacturer of motion and control technologies and systems, providing precision-engineered solutions for a wide variety of mobile, industrial and aerospace markets. The company employs approximately 60,000 people in 48 countries around the world. Parker has increased its annual dividends paid to shareholders for 56 consecutive fiscal years, among the top five longest-running dividend-increase records in the S&P 500 index. For more information, visit the company's website at www.parker.com, or its investor information website at www.phstock.com.
Featured Product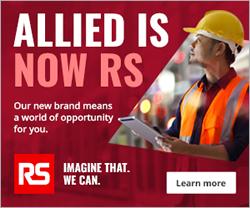 Imagine a global, end-to-end partner for industry - dedicated to solving your problems so you can drive your business forward. We can. On February 6, 2023, we officially changed our name to RS. It's just one way we're evolving to make our partnership and doing business with us even more rewarding. As RS, you have access to more support, more expertise, and more possibilities for your big and small projects - from concept and design to build and maintenance. Going forward, you'll see the RS logo on our website, social media, communications, and packaging. And rest assured, our current systems and procedures will remain intact to seamlessly process your order.