Suppliers have reduced production to accommodate demand
El Segundo, Calif. (Feb. 13, 2013)—Activity has plunged in the global photovoltaic (PV) polysilicon spot market—one of many hopeful signs corroborating IHS's prediction that prices for the key solar raw material soon will bottom out as supply comes into better alignment with demand.

The spot market in December of 2012 accounted for 20 percent of total polysilicon sales, down dramatically from its peak of 47 percent in May, according to the IHS Solar Polysilicon Price Index from information and analytics provider IHS (NYSE: IHS). The high level of spot market volume in mid 2012 indicated that polysilicon was in an acute state of oversupply. Producers were dumping excess stockpiles on the spot market, driving down prices to bargain levels that lured buyers away from long-term contract agreements.
This phenomenon was associated with a major, sustained plunge in polysilicon prices, with the polysilicon price per kilogram falling to an average of $20.00 per kilogram at the end of 2012, down from $31.00 in February last year.
However, the fact that spot market volumes having fallen by more than half indicates that suppliers have reduced production to accommodate demand—suggesting that pricing is approaching the bottom.
"As IHS predicted in November, solar polysilicon pricing in early 2013 is nearing the end of its long, 24-month decline," said Dr. Henning Wicht, director and principal analyst, photovoltaics, for IHS. "The drop in spot market volume, along with a range of other indicators, suggest that the price plunge that hamstrung polysilicon supplier profits throughout 2012 will soon come to an end."
The attached figure presents the respective percentages of the volumes of trade on the spot and contract markets.
Tier 1 suppliers are leading the way in reducing production, following IHS's advisory issued in September 2012. These companies are attempting to avoid a replay of 2012's miserable conditions by controlling volumes and not inflating the spot market.
The top suppliers also have experienced erosion in their profit margins. Even the most competitive suppliers now are warning investors they cannot afford to continue lowering prices to gain market share.
With their factory utilization reduced, these leading companies now are incurring higher unit costs per part manufactured. This also will compel the top-tier suppliers to cease reducing prices.
Pricing is expected to start increasing this month and continues through March.
While supply is adjusting to reduced sales, demand is expected to increase only modestly in 2013.
Even if demand increases at a higher rate than expected, Tier 1 suppliers will be reticent to increase production, keeping in mind that oversupply would destroy any price recovery immediately.
IHS Solar believes Tier 2 and Tier 3 suppliers are likely to play a reduced role in the market for several months. It will take prices higher than $25.00 per kilogram to stimulate the ramping-up of the idled factories.
About IHS (www.ihs.com)
IHS (NYSE: IHS) is the leading source of information, insight and analytics in critical areas that shape today's business landscape. Businesses and governments in more than 165 countries around the globe rely on the comprehensive content, expert independent analysis and flexible delivery methods of IHS to make high-impact decisions and develop strategies with speed and confidence. IHS has been in business since 1959 and became a publicly traded company on the New York Stock Exchange in 2005. Headquartered in Englewood, Colorado, USA, IHS is committed to sustainable, profitable growth and employs more than 6,000 people in 31 countries around the world.
Featured Product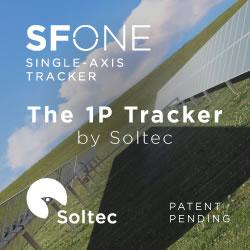 SFOne is the 1P single-axis tracker by Soltec. This tracker combines the mechanical simplicity with the extraordinary expertise of Soltec for more than 18 years. Specially designed for larger 72 an 78 cell modules, this tracker is self-powered thanks to its dedicated module, which results into a lower cost-operational power supply. The SFOne has a 5% less piles than standard competitor, what reduces a 75% the labor time.