Third Major Rejection in Two Days Shows Scottish Government Must Change Direction and Protect our Mountains
HIGHLAND Council planners have thrown out proposals to build a huge wind farm on the slopes of one of Scotland's most beautiful mountains.

The plans to build 17 turbines, each 126.5 metres high, at Clach Liath on the slopes of Ben Wyvis in Ross-shire was deemed so unsuitable that it was rejected without even needing to be put before the council planning committee for a vote.
David Gibson, MCofS Chief Officer, said: "We welcome this decision but it is completely wrong that companies can waste public time and money by putting forward grossly unsuitable applications of this kind.
"We have repeatedly called on the Scottish Government to act but it misses every opportunity and simply appears weak in its failure to care for the Scottish countryside.
"There are real concerns that planning departments, with limited resources, are being seriously overstretched by inappropriate wind farm applications by large energy companies which are happy to industrialise Scotland's mountains for the sake of their own profits.
"With three dreadful wind farm applications having been rejected by Highland Council in just two days it is time the Scottish Government started listening and changed its direction.
"Scotland needs a national renewables spatial planning policy to decide what can be built where. This would stop unsuitable, speculative planning applications and protect our precious countryside while allowing green energy schemes to be developed in suitable places."
This week Highland Council planning committee also rejected the wind farm applications for Dalnessie and Glenmorie, both of which would have a severe impact on important mountain landscapes. The final decision on these lies with the Scottish Government and the MCofS calls on it to respect the council's views.
Featured Product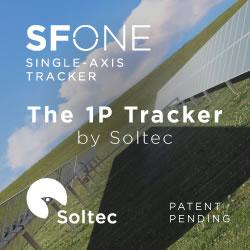 Soltec manufactures and supplies solar trackers designed and proven for extreme climate conditions, which is an ideal solution for any region's environment. Soltec's trackers are self-powered, requiring no additional PV module or grid-powered connection. Bifacial modules collect energy on both the front and rear sides, capturing reflected irradiance from the ground surface under and around the tracker and from other modules. Depending on site conditions, bifacial yield-gain can reach +30 percent.