Iowa Biodiesel Board asks state legislators for support in staying No. 1
DES MOINES – Biodiesel producers and supporters took to the state capitol today to ask legislators for their support in fulfilling a bold new domestic energy goal. Expanded state policies that foster biodiesel growth will be good for Iowans through increased economic activity, job growth and national energy prestige, the Iowa Biodiesel Board said.

At the Iowa Biodiesel Board's annual Day on the Hill today, IBB leaders said with encouragement, Iowa biodiesel production could double by 2022 as a part of a new national goal. Last week, the National Biodiesel Board unveiled the new goal: "10 by 22," which means biodiesel would make up 10% of the nation's on-road diesel supply by 2022.
Reaching this goal depends upon continued technological and agricultural advancements, but is responsible and attainable, according to NBB.
"As the nation's leading biodiesel producer, Iowa is poised to play a major role in this bold new effort, and would benefit from the increased production," said Randy Olson, IBB executive director. "Under the 10 by 22 plan, we estimate Iowa could double its production, which would mean current plants would operate at or near full capacity. This would enhance Iowa's economic development."
Successful state policies, such as the current incentive for fuel retailers to blend biodiesel and a producer's credit, help keep Iowa competitive with surrounding states, Olson said.
Recent economic studies show Iowa biodiesel supported nearly 5,000 jobs in the state in 2012. The industry's contribution to Iowa's GDP was nearly $400 million in 2012. Also, corn, soybean and livestock producers all benefit from biodiesel production, according to economic analysis.
The industry's 10 x 22 goal envisions a more diversified future energy portfolio that would include biodiesel making up 10 percent of the diesel fuel supply. This goal is benchmarked to the on-road volumes but expected to be used in various blend levels in various applications.
Biodiesel is an advanced biofuel made from agricultural byproducts and co-products, such as soybean oil. The Iowa Biodiesel Board is a state trade association representing the biodiesel industry.
Featured Product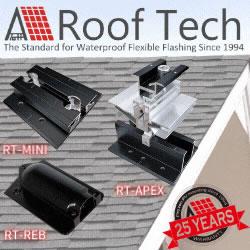 Now Roof Tech brings you the most innovative, watertight mounting systems ever developed for solar photovoltaic systems. Designed and manufactured exclusively for us by Japan's longtime leader in roofing technologies, Roof Tech products are 100% code-compliant and offer fast, simple installation and huge savings on shipping costs due to their compact, rail-less design. Learn more about our full line of versatile PV mounting solutions now available for residential installations. The next generation in rooftop solar mounting solutions."