Volunteers for International Development and Aid are using Morningstar's TriStar MPPT™ Charge Controllers & SureSine™ DC-to-AC Pure Sine Wave Inverters to 'Solarize ' the Remote Parts of Ghana's Volta Region.
Newtown, PA, USA, February 13, 2013: Morningstar is pleased to support the Volunteers for International Development and Aid (VIDA) in the Solarize Ghana Project. Our TriStar MPPT Solar Charge Controllers and SureSine DC-to-AC Pure Sine Wave Inverters are helping to bring clean, dependable solar-electric power to two rural Ghana communities—the Amway Academy and the Mafi Adelekpoe Clinic—communities that would not otherwise have access to electricity.

According to the World Health Organization only 23% of rural Ghanaians have access to electricity; the rest of the rural population has less than ideal educational & medical facilities and living conditions. Morningstar is pleased to help bring solar electric power to this remote region of Africa and to partner with VIDA to help change the lives of thousands of Ghana's rural citizens. Our TriStar MPPT Controllers and SureSine Inverters are helping to power basic infrastructure in schools and medical clinics, enabling the solar-electric powering of communication systems, security systems and lighting installations as well as helping to save lives and improve overall healthcare conditions.
"VIDA thanks Morningstar for their generous donation and continued support of our programs and projects," said Kathryn Sonnie, VIDA's Chairperson of the Board. "The donation of Morningstar TriStar MPPT Controllers and SureSine Inverters enable us to carry out the impactful, life-changing projects we complete around the world every year—we couldn't do it without Morningstar!"
"I've been lucky enough to travel to areas of Western Africa to install that equipment on schools and medical clinics and I always leave places with confidence knowing I'm leaving behind trusted and tested Morningstar equipment," said Dave Lettero, VIDA's Solar Project Manager. "I'm thankful for the support Morningstar Corporation has provided VIDA over the last few years and I look forward to our continued work together."
Company Information: Morningstar Corporation is a world-leading supplier of solar charge controllers & inverters—with over 2 million units installed, in over 67 countries around the world. Morningstar is renowned for delivering the industry's best overall customer value—our solar charge controllers & inverters have set new standards in performance, innovative features, quality & reliability. Morningstar is a privately-owned US corporation.
To learn more about these installations: www.morningstarcorp.com/vida
Follow Us on LinkedIn: linkedin.com/company/morningstar-corporation
Like Us on Facebook: facebook.com/MorningstarCorporation
Check us out on YouTube: youtube.com/TheMorningstarCorp
Featured Product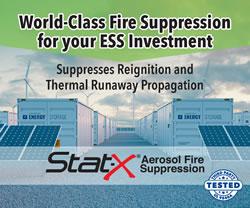 Stat-X® Condensed Aerosol Fire Suppression is a solution for energy storage systems (ESS) and battery energy storage systems (BESS) applications. This includes in-building, containerized, and in-cabinet applications. The Stat-X product was tested for efficacy in putting out Li-ion battery fires. It was found that the Stat-X agent successfully extinguished single and double cell battery fires. This testing was conducted in parallel with a large battery fire testing program. DNV GL Energy conducted the testing and validated effectiveness of the Stat-X aerosol agent on cell level Li-ion battery fires.