Agreement to offer a new financing and asset management model, from development and implementation through the first truly comprehensive solution for solar photovoltaic (PV) systems up to 20 MW in the United States
Secaucus, NJ and Boulder, CO – February 14, 2013 – Panasonic Eco Solutions North America announces that it has signed an exclusive multi-year solar photovoltaic (PV) solutions development agreement with Coronal Management LLC. The agreement highlights Panasonic efforts to bring the only comprehensive, end-to-end solution for solar PV projects from 250 kilowatts up to 20 megawatts to the commercial, industrial, municipal, and small utility sectors. Together, the two companies aim to develop, build and operate a portfolio of solar PV systems in the United States and Puerto Rico.

"The agreement with Coronal Management brings additional momentum to our platform as we become an integrated solar energy solution provider for customers with a shared understanding of the value of solar energy production and sustainability, both on the bottom line and from an environmental perspective," said Jamie Evans, managing director, Panasonic Eco Solutions North America. He continued, "We are committed to developing and promoting eco solutions, and with Coronal we can deliver more value for our customers."
The Panasonic and Coronal offering provides a single solution that includes financing, development, engineering, procurement and construction (EPC), as well as operations and maintenance (O&M) for the life-cycle of its installed solar systems. With its formidable financial strength, engineering and project management expertise, active environmental commitment and a robust system performance guarantee, Panasonic solutions will benefit both customers and partners for decades to come.
The leadership of Coronal Management brings over 80 years of unparalleled experience, expertise and success in investment and asset management, as well as a strong record of success in solar PV project development and financing. With the capability to bring to market a complete financing and asset management solution for scalable solar PV projects, the combination of Panasonic and Coronal results in a complete development, implementation, financing, and maintenance solution for solar systems.
"Working with Panasonic, we firmly believe we offer a truly unique platform to create the optimal, end-to-end solution for commercial, industrial, municipal and small utility solar PV projects," said Jonathan Jaffrey, CEO of Coronal Management. "This agreement allows Panasonic and Coronal to fill a critical gap in the solar market, with the potential to bring hundreds of solar projects into production, generating power for our customers, spurring the economy and helping the environment."
About Panasonic Eco Solutions North America
Panasonic Eco Solutions North America is a division of Panasonic Corporation of North America, the principal North American subsidiary of Panasonic Corporation (NYSE: PC). The company provides a full range of renewable energy and energy efficiency solutions including the planning, implementation, financing, and maintenance to corporate and private sector organizations in both the U.S. and Canada. To learn more about the company and its eco solutions, visit www.panasonic.com/ecosolutions.
About Coronal Management LLC
Coronal Management LLC is an alternative energy company that develops, finances, builds, operates and maintains solar photovoltaic ("PV") projects for institutions, corporations and non-profit organizations throughout North America. The Coronal team brings more than 80 years of successful investment management, a strong record of solar project development and has been recognized by the White House Office of Innovation and Civic Participation as thought leaders in the solar industry.
Coronal and Panasonic Eco Solutions North America have established a strategic relationship to deliver the first truly comprehensive life-cycle solution to facilitate solar projects from inception and financing, to engineering, procurement and construction (EPC), through to the operations and maintenance (O&M) of the systems. For additional information, please visit www.coronalmanagement.com.
Media Contacts
Aaron Fowles, Panasonic
619-661-2223, Aaron.Fowles@us.panasonic.com
Dan Unger, Panasonic
201-392-4571, Dan.Unger@us.panasonic.com
Bonnie Quintanilla, ZEESMAN
818-681-5777, bq@zeesman.com
Phyllis Grabot, ZEESMAN
805-341-7269, phyllis@zeesman.com
###
Featured Product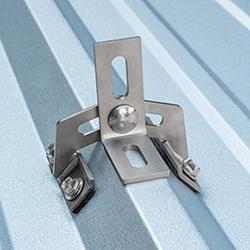 Explore new lines of income for your solar installation business with QuickBOLT's Stone Coated Steel roof mounts designed in partnership with metal roof manufacturers themselves. These SCS roof mounts work on all metal tile profiles and will help you bring in money you're missing out on. By not driving into the roofing material, QuickBOLT's Stone Coated Steel roof hooks maintain the integrity of the roof. Install with ease and confidence knowing your roof is protected against the harsh elements that these hooks are designed for.