PetersenDean Roofing and Solar makes solar ownership easy with four affordable and easy-to-understand solar system packages.
San Francisco, CA February 15, 2013

More sunlight penetrates the earth's surface in one hour than the world consumes in an entire year. Now PetersenDean is making it easier to power homes with the sun by launching four simple and cost effective residential solar products under the Power Saver Series brand.
Solar energy is the fastest growing energy sector in the United States – expanding so rapidly that it's now an $8.4 billion industry. Last year, California led the way, installing more megawatts of solar energy than any other state, according to the Solar Energy Industries Association (SEIA).
PetersenDean Roofing and Solar is one of the oldest solar power builders in the state. The award winning company has installed more than 1 million new roofs and more than 20,000 solar energy systems since installing their first solar system in 1985.
"I believe in global warming and that reducing our carbon footprint is vitally important," says Jim Petersen, CEO and founder of PetersenDean Roofing and Solar. "We recognized early on that there would be a growing demand for alternative energy and decided to blend our traditional roofing business with the solar installation business."
That vision has turned into a winning strategy. PetersenDean is headquartered in northern California with 15 regional offices in six states and employing over 4,000 workers. Jim can personally attest to the fact that the solar industry is having positive economic benefits in every community it touches. "When we go into new territories we hire local people, work closely with the local Chamber of Commerce, and become very involved in the communities," he says.
Solar power not only provides clean, renewable energy, but falling costs have made solar more affordable than ever. In fact, the average price of a solar panel has declined by 58 percent since 2011, according to SEIA. In addition to lower equipment and material costs, Jim says his company's solar prices have come down as installers became more efficient.
The Power Saver Series enables consumers to purchase rooftop solar power for their homes for as little as $5,999 – or $4,999 with the purchase of a new roof – with no money down, 4% interest financing, and low, easy payments. The systems can be installed in one day allowing homeowners to begin reducing their electric bills immediately.
Before leasing a solar system, Jim suggests homeowners do the math. "Why would anyone lease a solar power system that cost five grand for 20 years and never own it?" he asks. In addition to offsetting rising energy costs, homeowners can receive $1,800 to $6,000 in tax credits depending on the package they choose.
The future looks bright for solar power and PetersenDean. To learn more about this company with an A+ rating from the Better Business Bureau and their Power Saver Series products, visit their websites http://www.powersaverseries.com, or http://www.petersendean.com.
About PetersenDean Roofing and Solar
PetersenDean has grown to be the largest privately held roofing and solar contractor in the United States, yet prides itself on operating like a family-owned business, hiring local residents, and becoming actively involved in each community they serve. Their trucks can be seen on large city projects, but are just as likely to be seen re-roofing a neighbor's home. Headquartered in Northern California with 15 regional offices in Arizona, California, Florida, Nevada, Oklahoma, and Texas, this award-winning company employs over 4,000 workers, has completed over $3 billion in projects, installed more than 1 million new roofs, and more than 20,000 solar energy systems since its founding. They are active in organizations such as the Solar Energy Industry Association, Make-A-Wish Foundation, Habitat for Humanity, the Building Industry Association, the Sierra Club, and their own foundation which has given grants and financial aid for education, solar power, and roofing projects worldwide.
Featured Product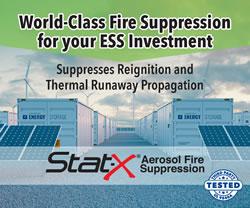 Stat-X® condensed aerosol fire suppression is a solution for energy storage systems (ESS) and battery energy storage systems (BESS) applications. Our Stat-X condensed aerosol fire extinguishing product was tested for efficacy in suppressing li-ion battery fires. It was found that the product successfully extinguished single and double cell battery fires. This testing was conducted in parallel with a large battery fire testing program on behalf of a large energy storage company.