BlueTech Research is pleased to announce the details of the next interactive web-conference in the BlueTech® Webinar Series entitled: Oil Sands: Technical Overview & Market Perspectives. The Event will be held on February 21st, 11:00 – 12:30 PM EST; 4:00 PM – 5:30 PM BST
This BlueTech® webinar will explore the current status of the oil sands industry and its water technology requirements and the challenges it faces and potential market opportunities. We will examine existing technology and current status of system designs. There will be presentations of the different approaches taken. Finally, there will be a discussion of prospects, highlighting research needs, new applications, and commercial opportunities.

This BlueTech® Webinar will bring together diverse perspectives from the oil sands water technology providers, industry experts and leading reseach groups. The industry experts will present for 45 minutes followed by a 45-minute question and answer session where the audience will have the opportunity to interact directly with the panel.
The following topics with be discussed:
Oil sands water quality and potential treatment approaches
The nature of SAGD produced water
Overview of current water treatment practices and need for future technologies
The role of MVR evaporation in SAGD water recycling
Transferring innovation from other high fouling produced water application to SAGD
Trailing
Oil Water Separation
An Overview of the industry in Alberta
Regulations
End User Perspectives
This webinar is part of the BlueTech® Webinar series.
Moderator
Paul O'Callaghan, CEO, O2 Environmental
Panelists
William Heins, General Manager, Thermal Products, GE Power & Water, Water & Process Technologies
Mohamed Gamal El Din, Environmental Engineer, NSERC Senior Industrial Research Chair in Oil Tailings Water Treatment
Patrick Horner, VP Engineering, Aqua-Pure Ventures
Tom Hann, Worley Parsons
Contact eva.davies@bluetechresearch.com for any additional information.
Featured Product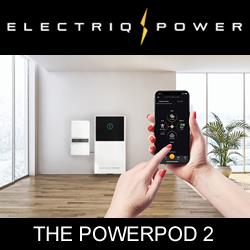 The Electriq PowerPod 2 is a fully-integrated home energy storage, management, and monitoring system powered by LFP batteries. The high-performance, cobalt-free product includes a hybrid solar/battery inverter controlled by intelligent software. The PowerPod 2 provides backup power and can self-consume or export excess power back to the grid.