Alliance announces newly-elected leadership
Solar Energy Industries Association and U.S. Solar Heating and Cooling Council Announce Launch of the U.S. Solar Heating and Cooling Alliance
Alliance announces newly-elected leadership
WASHINGTON, D.C., FEB. 19, 2013 -- Today the Solar Energy Industries Association® (SEIA®) and the U.S. Solar Heating and Cooling Council (SHC Council) launched the U.S. Solar Heating & Cooling Alliance (SHC Alliance). The Alliance is focused on growing the solar heating and cooling market through reducing barriers and advocating for policies on the federal, state and local levels.
The newly elected leaders of the U.S. Solar Heating & Cooling Alliance are:
- Chair Mike Healy, Skyline Innovations
- Vice Chair Matt Carlson, Sunnovations
- Treasurer Eileen Prado, SRCC (Solar Rating & Certification Corporation™)
- Rotating members Les Nelson, IAMPO (International Association of Plumbing and Mechanical Officials) and Ole Pilgaard, Heliodyne
"We're thrilled that this partnership between SEIA and the U.S solar heating and cooling (SHC) industry has been established to focus on securing pathways to greater deployment of solar heating and cooling technologies," said newly elected SHC Alliance Chairman Mike Healy. "This collaboration will empower us to heighten awareness of this technology and the benefits it can provide to families and businesses."
"SEIA encourages all companies and organizations interested in the expansion of the solar heating and cooling sector in the U.S. to join the SHC Alliance," said SEIA president and CEO Rhone Resch. "Solar heating and cooling is an expanding, significant sector of our industry -- which is providing affordable, accessible and reliable clean energy technology for our nation while helping us achieve energy independence and security."
The SHC Alliance will be governed collaboratively by SEIA and the Alliance's governing body, the U.S. Solar Heating and Cooling Council. Objectives of the SHC Alliance are:
- To catalyze a common vision and raise awareness with all stakeholders- including policymakers, potential customers, investors and financiers
- To serve as the coordinated go-to voice on industry issues to ensure stakeholder interests are protected
- To energize the industry through collaboration and funding of collective priorities
- To take action to maintain and develop markets for SHC businesses to be a success
Solar and heating cooling technologies comprise a growing proportion of the solar technologies being deployed throughout the U.S. They collect the thermal energy from the sun and use this heat to provide hot water, space heating, cooling, and pool heating for residential, commercial, and industrial applications. These technologies displace the need to use electricity or natural gas. Today, Americans across the country are at work manufacturing and installing solar heating and cooling systems that significantly reduce our dependence on imported fuels. In 2010, the U.S. saw 35,464 solar water heating systems and 29,540 solar pool heating systems installed, heating a total of more than 65,000 homes, businesses and pools.
Solar is the fastest-growing and most affordable, accessible and reliable clean energy technology available today. America's solar industry now employs more than 119,000 workers at 5,600 companies – most of which are small businesses spread across every state in the union.
Additional Resources:
SEIA Solar Heating and Cooling fact sheet: http://www.seia.org/research-resources/solar-heating-cooling
U.S. Solar Heating and Cooling Alliance website: http://www.seia.org/about/seia/special-initiatives/us-solar-heating-cooling-alliance-division-seia
About SEIA®:
Established in 1974, the Solar Energy Industries Association® is the national trade association of the U.S. solar energy industry. Through advocacy and education, SEIA and its 1,000 member companies are building a strong solar industry to power America. As the voice of the industry, SEIA works to make solar a mainstream and significant energy source by expanding markets, removing market barriers, strengthening the industry and educating the public on the benefits of solar energy. www.seia.org
Featured Product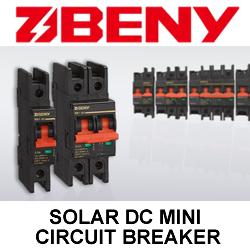 The BB1-63 modular miniature circuit-breakers can be used in solar DC circuits up to 1200 VDC (4-poles execution). Application in solar DC circuits, battery energy storage systems and UPS. Arc flash barrier design keeps solar equipment more safe and reliable. For DC circuit over-current protection.