New P-ECOSYS platform includes financial rewards, social/gaming techniques, automation and vendor markets
San Francisco, Calif. – February 20, 2013 – PlanetEcosystems today announced significant upgrades to its P-ECOSYS consumer engagement platform, driving the next generation of consumer engagement and demand reduction for utilities and others hoping to use utility services to deliver consumer value. The new P-ECOSYS platform resolves two increasingly urgent challenges for utilities; achieving deep reductions in energy and water demand, and fostering substantive and positive relationships with consumers.

"Utilities, restructured and regulated, face differing mandates for consumer engagement. Whether to reduce peak demand or to increase loyalty in competitive markets, utilities are finding that customers respond to programs that extend and increase their knowledge and control of consumption," said Tom Kerber, director of research at Parks Associates. "In this new era, effective consumer engagement is an imperative."
To date, consumer engagement has been characterized by the deployment of programs with poorly coordinated messaging and objectives, and the presentation of inconsistent information and measures. PlanetEcosystems' new P-ECOSYS platform eliminates such problems in an easy-to-implement, turnkey solution, addressing several features in one comprehensive platform:
∑ Providing single, and now multi-family, residential consumers with easy-to-use optimization tools that can save tens of thousands of dollars in net cumulative savings
∑ Expanded optimization tool functionality; providing answers to other highly-compelling consumer motivations such as minimizing carbon footprints, and improving health and comfort conditions
∑ Powerful and engaging social media capabilities, proven to enhance the consumer relationship and drive engagement
∑ Extensive capabilities supporting effective field operations, including tools for energy advisors (phone and in-person), canvassers, auditors, installers and others
∑ Automated rebate submissions and administrative processing; dramatically reducing errors while increasing consumer participation and engagement
∑ Efficient contractor and vendor coordination portal for opt-in information sharing and scheduling
∑ Mass-customized outbound outreach messaging, including engagement mailers, bill presentation, energy reports, and call-center support
"The breadth of the consumer engagement activities supported by our plug-and-play platform far exceeds the capabilities of competing solutions, resulting in much happier consumers," said Steve Malloy, co-founder and senior vice president of PlanetEcosystems. "Incorporating our Utility System Optimizer (USO) technology, P-ECOSYS is easily the most effective solution available for utilities to motivate consumers to undertake deeper, sustaining demand reduction actions and investments."
PlanetEcosystems will explore the role of energy providers in home energy management in a speaking panel Tuesday, February 26 at 11:00 a.m. at the Smart Energy Summit in San Antonio, Texas.
About PlanetEcosystems
PlanetEcosystems is a consumer engagement and demand reduction service provider, helping utilities and local governments achieve substantial reductions in residential and commercial energy and water demand. PlanetEcosystems understands what it takes to achieve consumer action, deploying proven and proprietary programs to activate the key motivators of consumer action, including unique, patent-pending web tools that optimize consumers' utility economics and integrated media and ground-game engagement campaigns. To learn more, visit www.planetecosystems.com.
Featured Product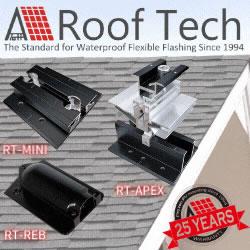 Now Roof Tech brings you the most innovative, watertight mounting systems ever developed for solar photovoltaic systems. Designed and manufactured exclusively for us by Japan's longtime leader in roofing technologies, Roof Tech products are 100% code-compliant and offer fast, simple installation and huge savings on shipping costs due to their compact, rail-less design. Learn more about our full line of versatile PV mounting solutions now available for residential installations. The next generation in rooftop solar mounting solutions."