Partnership creates new funding options for transit agencies and commercial buyers interested in purchasing Proterra buses
GREENVILLE, S.C., February 19, 2013 – Proterra Inc, the leading provider of zero-emission commercial transit solutions and maker of the world's first battery-electric fast-charge transit bus, the EcoRide™, has announced it has entered into an agreement with Key Equipment Finance to offer a simple, straight-forward financing package for transit agencies, corporations and other commercial entities seeking to purchase Proterra buses. Key Equipment Finance is one of the nation's largest bank-held equipment finance companies and an affiliate of KeyCorp (NYSE: KEY).

This new partnership is designed to provide transit agencies with an additional method of funding the local portion of Federal Transit Administration (FTA) supported bus purchases. With many federal grant programs no longer available and many transit properties unable to secure the local match dollars needed to supplement their FTA funding, this new option will be attractive to agencies of all sizes looking to upgrade or expand their fleets. Under terms of the deal, purchasers can finance up to 100 percent of the cost of each bus, allowing them to spread their payments over time and provide for a capital cushion in an uncertain economic environment.
With the growing movement toward more sustainable transportation, Proterra and Key Equipment Finance also believe that this financing option will generate interest from commercial buyers, including corporations and colleges and universities, who are more accustomed to equipment financing.
Because Proterra buses have been proven to dramatically reduce fleet operating expenses through significant fuel and maintenance cost savings, Proterra predicts that many agencies and corporations will be able to pay for the bus financing with these savings.
"Our new financing package from a top-tier lender provides an exciting opportunity for those who want and need to upgrade or expand their aging fleets but don't have the budget to do so," said Ian Shackleton, vice president of marketing and sales, Proterra Inc. "Our partnership with Key Equipment Finance gives them a viable option to meet their needs in times of fiscal uncertainty. This financing package is an excellent example of the type of innovative public/private partnership the FTA encourages."
"Proterra's entire corporate philosophy is built on putting the customer first, and this finance program is one more example of a Proterra offering designed with the customer's needs in mind," said Tim Duerr, senior vice president of business development at Key Equipment Finance. "We look forward to this partnership and are confident Proterra will see even greater customer satisfaction as the result of offering flexible financing as part of the sales process."
About Key Equipment Finance
Key Equipment Finance is one of the largest bank-based equipment finance providers in the U.S. The company provides tailored equipment lease and finance solutions for commercial clients and government entities. Through its vendor services unit, equipment finance programs are developed for manufacturers, distributors and resellers in the U.S., Canada and Europe. Key Equipment Finance also provides lease capital markets support for corporations looking to optimize risk and revenue.
Headquartered outside Denver, Colorado, Key Equipment Finance manages $8.5 billion in assets and originates nearly $4 billion of equipment financing annually. The company has management and operations in Albany, New York; London, England; Frankfurt, Germany; Madrid, Spain; Milan, Italy; Paris, France and Toronto, Canada. The company, which supports clients in 17 countries, employs approximately 500 people worldwide, and has been in the equipment financing business for over 35 years. For more information, visit www.KEFonline.com.
About KeyCorp
KeyCorp was organized more than 160 years ago and is headquartered in Cleveland, Ohio. One of the nation's largest bank-based financial services companies, Key has assets of approximately $89.2 billion on December 31, 2012.
Key provides deposit, lending, cash management and investment services to individuals and small businesses and medium-sized businesses in 14 states under the name KeyBank National Association. Key also provides a broad range of sophisticated corporate and investment banking products, such as merger and acquisition advice, public and private debt and equity, syndications and derivatives to middle market companies in selected industries throughout the United States under the KeyBanc Capital Markets trade name. For more information, visit www.key.com. KeyBank is Member FDIC.
About Proterra
With manufacturing in Greenville, S.C., Proterra is a leader in the clean technology and clean energy space, designing and manufacturing heavy-duty electric drive systems, energy storage systems, vehicle control systems, transit buses and fast-charging stations. Proterra's systems are scalable to commercial buses of all sizes. Its ground-up designs have led to the EcoRide™, the world's first full-size, 10-minute charge battery-electric transit bus. Proterra has achieved a number of milestones in the past 18 months, growing from two to seven major transit agency customers with a large and growing pipeline. In 2012, Proterra's EcoRide™ became the first heavy-duty electric transit bus ever to complete challenging federally required durability and reliability testing at the Bus Research and Testing Center in Altoona, Pennsylvania, demonstrating best in class energy efficiency and noise levels. For more information on Proterra and its technology, please visit www.proterra.com.
Featured Product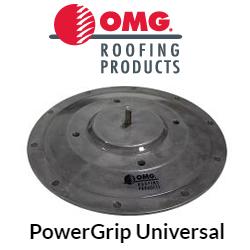 Eliminate Solar Rack Ballast and Reduce Rooftop Material Handling. PowerGrip™ Universal (PGU) is a commercial roof mount system designed to secure solar racks and other equipment to any type of commercial roofing system. PGU provides a secure connection directly to the roof deck or structural members and is designed to reduce or eliminate ballast in solar racking systems, so there's less weight on the roof and less material handling. Made of heavy-duty cast aluminum, PGU units include a base ring which is secured through the roofing cover and into the structural roof deck, and a waterproof top plate.