PV *SOL® Expert, the dynamic simulation program with 3D visualization and detailed shading analysis of PV systems from the Berlin company Valentin Software, is available from the end of February in version 6.0 with the additional working area "cable plan"
The cabling of a PV system can be technically visualized and edited as early as the planning stage. PV*SOL® Expert 6.0 provides a comprehensive and practical new working area for the configuration of modules, strings and inverters. This allows for both automatic cabling with the optimal configuration options, as well as the possibility of manual configuration of PV systems.

With the new version PV*SOL® Expert 6.0 the "textures", i.e. for terrain, buildings and objects, have been further revised and are now even more realistic than before. In addition, textures of 3D objects such as buildings, dormers, chimneys, etc. can be exchanged and saved, and users can also add their own textures.
There are also other innovations for the integrated climate data generator MeteoSyn. With PV*SOL® Expert 6.0 MeteoSyn now allows manual entry of measured monthly mean values in order to generate the hourly values of irradiation and temperature for a new site.
In addition, SolarEdge power optimizers are now built into the PV*SOL® Expert 6.0 component database. Through the detailed calculation of the shading situation to the module level or the bypass diodes, PV*SOL® Expert can for the first time accurately predict the influence of power optimizers for each application using a simulation.
All versions of PV*SOL® have well maintained and extensive module and inverter databases, now including over 12,000 modules and 2,600 inverters, which are continually updated and expanded by the automatic update function. The online maintenance of components is carried out first-hand by the module and inverter manufacturers and Valentin Software then checks the data before making it regularly available to PV*SOL® users via the update function.
All of the PV*SOL® range is multilingual, available in five languages: English, German, French, Italian and Spanish and, as part of the service, the appropriate manual is also offered in all five languages. In the variant PV*SOL® basic, Polish can be selected as the sixth program language.
Free demos and more information on the entire range of software products in the field of renewable energy can be found on www.valenti-software.com. Ordering is easy through the Online Shop, by e-mail to sales@valentin-software.com or by fax to (858)777-5526. For inquiries, the team at Valentin Software can be reached directly by phone from 07:00 to 4:00 PST at 951-530-3322.
Featured Product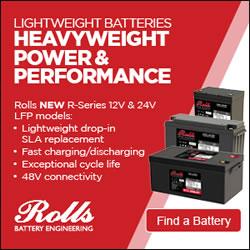 Designed for true drop-in replacement, Rolls new R-Series 12V & 24V LFP lithium models offer a maintenance-free lightweight flooded and SLA alternative in four popular BCI case sizes with fast charge/discharge capability. Rolls custom built-in BMS provides all necessary operating protections for safe operation and seamless integration for deep cycle replacement in 12V, 24V or 48V systems.