Michael Brower and Rolf Gibbels Join ACORE Board; Bill Holmberg and Kenneth Westrick Move to New Positions
WASHINGTON, D.C. (February 26, 2013) –The American Council On Renewable Energy (ACORE) is pleased to announce two newly-appointed Board Members: Michael Brower, Senior Federal Policy Director, Mosaic Federal Affairs LLC; and Rolf Gibbels, Global Power Generation Solutions Leader, IBM.

"Our organization—and the industry—need visionary leaders like Michael Brower and Rolf Gibbels who will serve on the ACORE Board, supporting ACORE's mission to create a more secure and prosperous America with clean, renewable energy," said ACORE President and CEO, Vice Admiral (Ret.) Dennis McGinn. "As the country is facing challenges to reduce the nation's massive budget deficit while growing our economy, we need the business leadership of these and all our Board members to define the way forward for renewable energy policy and finance."
Michael Brower, a retired career Naval Officer and Aviator, is Mosaic Federal Affairs' principal responsible for the firm's operations and management as well as all legislative objectives and priorities. He specializes in Energy & Water Development, Defense, Labor-HHS-Education, Transportation and Science/Environmental authorizations and appropriations, as well as, tax, environmental, energy and defense policy matters.
"To be selected for the Board of Directors of ACORE is a distinct honor and privilege and I am prepared to join the leadership in the renewable energy community to help steer a course forward for domestic and global renewable energy," said Brower. "Today, ACORE has a clear vision and direction with our 'all-of-the-above' emphasis on renewables as a key strategic component of Defense and National Security, Transportation and Power Generation. I embrace the associated positive environmental, economic and climate advantages such a course offers."
Rolf Gibbels is an executive member of IBM's global energy and utilities industry organization, and leads the global industry solutions and business development activities with focus on power generation across all IBM brands. Areas include plant lifecycle information management and asset performance management across all energy sources (renewables, fossil and nuclear energy).
"As the industry continues to make great strides in deploying new resources for renewable power generation, more focus is being placed on new business models and operations such as smarter information management and integration," remarked Gibbels. "I am pleased to join ACORE's Board as we undergo this transformation and offer IBM's global experience and expertise, in an effort to drive renewable growth and sustainability."
The two incoming Board members are replacing outgoing Board members, Bill Holmberg and Ken Westrick who are moving to new positions. "I want to thank Bill Holmberg and Ken Westrick for their years of service to ACORE," said McGinn. "Both men have contributed their leadership and tireless energy to advancing renewable energy in America. Bill was one of the founders of ACORE and has led our biomass and biofuels work, and is moving now to concentrate on educating the next generations. Through his company, 3TIER, Ken developed ground-breaking tools to help renewable energy project developers and others visualize resources and data. His keen vision will now be trained on helping develop Latin American and Caribbean renewable energy via the Latin America and Caribbean Council On Renewable Energy (LAC-CORE), to which he was recently elected."
Bill Holmberg, a founding member of ACORE and current staffer, will be moving to the ACORE Advisory Board. Holmberg graduated from the U.S. Naval Academy, served for 21 years in the Marine Corps–nineteen of which were as an officer–and had an additional 13 years of experience in the federal government supporting sustainable agriculture and energy technologies, with a focus on biofuels. A tireless innovator and champion of renewable energy, Bill will "push the frontier for experiential education with a focus on renewables in the lower grades."
Westrick is the founder of Westeva, a newly formed company with the mission to design and develop portfolios of clean energy projects. Prior to this role Mr. Westrick founded and then served as the Chief Executive Officer of 3TIER Inc for over 10 years. His vision placed 3TIER squarely in the global renewable energy forecasting sector, devising products and core scientific technologies that help to mitigate one of the largest challenges with renewable energy, that being intermittency and variability in production. Mr.Westrick currently serves as the Chairman of 3TIER's Board.
About ACORE:
ACORE, a 501(c)(3) non-profit membership organization, is dedicated to building a secure and prosperous America with clean, renewable energy. ACORE provides a common educational platform for a wide range of interests in the renewable energy community, focusing on technology, finance and policy. We convene thought leadership forums and create energy industry partnerships to communicate the economic, security and environmental benefits of renewable energy. Additional information is available at www.acore.org .
Featured Product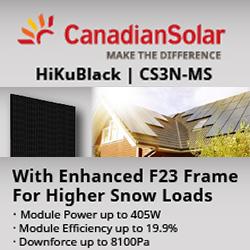 Aesthetic appearance for residential systems: With black backsheet & black frame, Power range 380 ~ 405 W, Low power loss in cell connection. Enhanced reliability: · Low temperature coefficient (Pmax): -0.34 % / °C, LID LeTID less than 2.0%, Lower hot spot temperature, Better shading tolerance.