Previous positive experiences on other projects made SFR the only choice for Quabbin Solar
YOUNGSTOWN, OHIO — It's been said that experience is the best teacher, and a

Massachusetts developer's previous experience with the Solar FlexRack made him eager to
choose the innovative photovoltaic mounting solution for his most recent project.
Solar FlexRacks were specified for the recently completed Quabbin Barre Wool Solar Project in
Barre, Massachusetts. A total of 286 2x11 ballasted Solar FlexRacks with three posts/ballast
blocks per rack were used to hold 6,292 280-watt solar panels.
The racks are designed to withstand wind speeds of up to 100 mph and a snow load of up to
55 psf.
The project will produce a total output of 1.75 Megawatts of energy, or the equivalent of enough
electricity to power 194 homes a year for the next 25 years.
Dean Iandoli, Solar Developer/Owner of the Quabbin Solar/Barre Wool Solar, knew from the
start what his choice of a racking solution for the project would be. "Once again, when choosing
the system components for our Barre Wool project, the only one I was adamant about using was
the racking systems from Solar Flex Rack," said Iandoli. "I have used them in other multiple
megawatt installations I have developed and was not about to change."
Solar FlexRack previously supplied 497 2x8 ground-mount racks to the nearby Vernon Avenue
project in Barre, for which Quabbin Solar served as the installer.
The Solar FlexRack is easy to unload and disperse at the job site. It erects by a three-man crew in
five minutes or less — the simplest, fastest and most accurate installation in the industry.
This performance makes significantly accelerated construction times and dramatic savings on
labor costs possible for any solar installation — an estimated $500,000+ savings per 10MW
project. Thus, when the Solar FlexRack is specified in an RFP, the total bid could be as much as
40 percent lower for construction.
More information about the Solar FlexRack is available at www.SolarFlexRack.com
Featured Product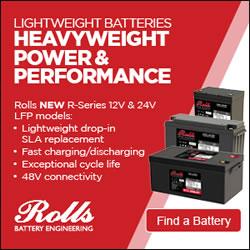 Designed for true drop-in replacement, Rolls new R-Series 12V & 24V LFP lithium models offer a maintenance-free lightweight flooded and SLA alternative in four popular BCI case sizes with fast charge/discharge capability. Rolls custom built-in BMS provides all necessary operating protections for safe operation and seamless integration for deep cycle replacement in 12V, 24V or 48V systems.