First Assembly of God uses energy savings to increase community outreach programs; investment in clean electricity seen as promise to future generations
Shrewsbury (New Jersey), February 26, 2013. ó Since its very beginning over fifty years ago the Church of the First Assembly of God in Shrewsbury, New Jersey, has been promoting and instilling earth stewardship and environmental responsibility to its members. Recently the church implemented a 30 kW solar photovoltaic system as a highly visible sign that the assembly does more than give lip service to reducing carbon emissions and caring about the environment.

The clean energy system consists of 122 MAGE POWERTEC PLUS modules which are installed on the church's worship hall and office building. Offsetting 52% and 90% respectively of the buildings' energy consumption, the solar panels will help to dramatically reduce the assembly's utility costs and free up valuable capital. With the new revenue, the church plans to increase their involvement in several community outreach programs. Additionally, the church's investment in clean energy is recognized as an extremely positive and pro-active promise to future generations and as a concern for their well-being by the congregation.
The solar PV-modules were procured, installed, and commissioned by TerraSol Energies, Inc. a family-owned business serving the PA-NJ-DE area which will also monitor the system. The panels were provided by MAGE SOLAR, a Georgia-based company that takes great pride in offering solar modules with an industry-leading 30 power output guarantee. To satisfy building codes of the Borough of Shrewsbury, TerraSol Energies used all black modules with black rails to make the system aesthetically blend into the roof space. TerraSol Energies also opted to employ microinverters rather than a standard string inverter in order to optimize the power output of the photovoltaic system which is spread out over several roofs with varying orientation.
Ken Walsh, the church's project coordinator said, "I was very happy to work with TerraSol Energies for many reasons, but primarily because they handled any obstacle that was presented and in the end they delivered a system that is performing better than expected".
Although the system has only been completed at the end of December last year, it has already produced 1,708 kWh in January which exceeds the estimated production 115%. Annually, the array is designed to generate 33,754 kWh which will offset about 40,000 lbs of harmful CO2 emissions every year, the equivalent of 2,034 gallons of gasoline consumed or of 465 tree seedlings grown for 10 years.
"It was an excellent project and I am proud to be able to help the church in their mission in a manner that provides the double bottom line benefits of improving the environment and saving them money," says Tony Taglione, project manager from TerraSol Energies.
Joe Thomas, the President and CEO of MAGE SOLAR, comments: "MAGE SOLAR are extremely honored being part of this landmark clean energy project in the Borough of Shrewsbury. We would like to thank our partners at TerraSol Energies and at the First Assembly of God for putting a lot of hard work into making their vision of a cleaner, more environmentally friendly energy solution a reality."
MAGE SOLAR – The Sun on Your Side
MAGE SOLAR USA, headquartered in Dublin, Georgia, specializes in complete solar systems and provides high-quality photovoltaic modules, intelligent mounting systems and high-performance brand inverters. As a subsidiary of the international MAGE GROUP, it uses the Group's 40 years of know-how to develop optimally coordinated system solutions. A competent partner network guarantees profitable solar energy systems for customers throughout the Americas and in 21 more countries in Europe, Asia, Africa, and Australia. In 2011, the company generated U$280 in sales with around 180 employees.
www.magesolar.com
www.linkedin.com/company/mage-solar-projects-inc
www.facebook.com/magesolar
www.twitter.com/mage_solar
TerraSol Energy Systems
TerraSol Energies, Inc. was founded in 2009 by a multidisciplinary team of engineers to provide solar power systems to residents and businesses in NJ, PA, and DE. TerraSol Energies, Inc. provides in house solar design and engineering for all clients and maintains on staff a North American Board of Certified Energy Practitioners (NABCEP) Certified Solar PV Installer.
www.terrasolenergies.com
www.linkedin.com/company/terrasol-energies-inc
www.facebook.com/TerraSolEnergies
Featured Product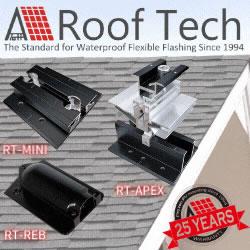 Now Roof Tech brings you the most innovative, watertight mounting systems ever developed for solar photovoltaic systems. Designed and manufactured exclusively for us by Japan's longtime leader in roofing technologies, Roof Tech products are 100% code-compliant and offer fast, simple installation and huge savings on shipping costs due to their compact, rail-less design. Learn more about our full line of versatile PV mounting solutions now available for residential installations. The next generation in rooftop solar mounting solutions."