Features included in the Solar Site Design app facilitate and streamline the sales and business development process for experienced solar professionals.
Nashville, TN February 27, 2013

Solar Site Design is currently developing a mobile platform to assist in customer acquisitions and streamline on-site design consultations for solar contracting companies. The development of the Solar Site Design app is uniquely positioned to benefit experienced solar installers in their sales and business development efforts.
Solar Site Design is a cloud-based solar design tool for contractors who are experienced solar installers - specifically, photovoltaic solar systems. Once the solar contractor downloads the app and completes registration, they are ready to visit a potential solar project site. Upon arriving on site, the solar contractor captures key, on-site information (including manual data input) and pictures and detailed video of the site. Once the data is collected and submitted, a team of experienced solar engineers 'in the cloud' begin working on a complimentary project (feasibility) drawing. This initial drawing is a crucial part of the sales process, as it shows the customer the maximum solar capacity their property can accommodate.
Solar Site Design is intuitive, simple and straightforward to use. According to the Managing Director, Jason Loyet, "This concept is unlike what any other solar application can provide its users today in the high-growth solar development industry."
It is through the efficiency Solar Site Design provides that allows for the solar industry to continue competing against outdated sources of energy, such as fossil fuels, that are polluting our planet. With an increased sense of urgency from our Nation's government for clean energy, the solar industry should see a spike in installations. Contractors who download and use this solar tool to assist in growing their solar installation business will be a part of building a more sustainable world, and will be poised to accelerate the development of solar energy throughout the United States.
The Solar Site Design app will officially launch in April 2013. Be sure to follow along on Twitter and Google+ for up-to-the-minute information on the official debut in the Apple Store and Google Play.
About Solar Site Design
Solar Site Design is a collaborative, cloud-based content management platform that offers a complete project development solution for solar professionals. The mission is to offer the Solar Site Design information technology platform to solar professionals worldwide.
Featured Product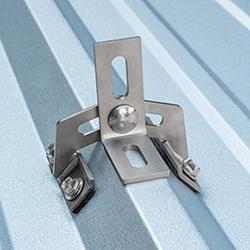 Error-Proof Compression: The QB2 doesn't leave any room for user error when it comes to Microflashing® compression. Once the Dual Drive Shoulder Screw is secured, the Microflashing® is compressed. Only 3 Components: The QB2 is comprised of Microflashing®, an L-foot and a Dual Drive Shoulder Screw. No more Nuts needed to tighten and secure the L-foot! Not only does this simplify the installation process, it also cuts down the installation time.