Leading EPC hires energy veteran, Chris Larsen, and joins the North Carolina Solar Energy Association
ROHNERT PARK, Calif.--Stellar Energy, a leading commercial and utility-scale solar engineering, procurement and construction (EPC) company headquartered in Rohnert Park, CA, hired energy veteran, Chris Larsen, as Director of Southeast Project Development. Larsen, who joined the industry in 1996, will be focused on partnerships with solar developers to build multi-megawatt solar projects.

Larsen earned his bachelor's in economics from Princeton and master's in mechanical engineering from North Carolina State. From 1996 to 2001, he was the Director of Policy Programs at NC State University's Solar Center, specializing in distributed generation and utility interconnection issues. He created and served as the first editor of IREC's Connecting to the Grid newsletter which is now in its 14th year and is widely read by the US renewable energy, utility, and regulatory communities. Larsen has spoken frequently at conferences and at state utility commission hearings and is the author of several papers in distributed generation, renewable energy, and power quality.
"We are excited and proud to have Chris on our team. He brings a wealth of experience and knowledge of the North Carolina and southeast solar markets. Chris's commitment to emerging technologies is perfectly aligned with Stellar Energy's desire to work with partners to deploy large-scale solar projects that will produce clean, affordable, renewable energy, and benefit local communities," said Matt Lugar, Stellar Energy's Senior Vice President of Sales and Marketing.
Larsen spent almost 10 years with the Swiss engineering group ABB Ltd, leading the PV inverter design team in their renewable energy R&D laboratory in Raleigh and working with ABB's Advanced Power Electronics and Process Controls groups. Larsen previously served as a board member for both the North Carolina Sustainable Energy Association and the NC Green Power and was a consultant to the North Carolina Energy Policy Council.
"Chris has been a tireless advocate for the development of the renewable energy market in North Carolina, so we are happy to welcome him and Stellar Energy as new Gigawatt members of NCSEA," said Ivan Urlaub, Executive Director of the North Carolina Solar Energy Association (NCSEA).
"Stellar Energy's commitment to NCSEA supports our efforts to continue to grow the market in North Carolina through outreach, education, and shaping policy," added Urlaub.
A longtime resident of North Carolina's Research Triangle, Larsen is thrilled to be directing Stellar Energy's southeast activities. "Stellar Energy has been building large-scale solar projects for years and has the experience, know-how, and purchasing power needed to maximize electricity production and financial returns of utility-scale solar investments," said Larsen.
Stellar Energy, which focuses exclusively on solar design and construction, has been delivering efficient and cost-effective solar systems to commercial, industrial, government, and utility clients since 2004. It is a subsidiary of Itochu Corporation, a Global Fortune 500 company that provides one of the largest bonding capacities in the solar industry. Stellar Energy's unrivaled financial stability and design experience will help support the rapid growth of the utility-scale market in North Carolina.
"Stellar Energy is known for its commitment to solar excellence and will be an important player in the expanding PV market in our state and region," added Larsen.
For more information, please visit www.stellarenergy.com or contact Elise Benoit at elise.benoit@stellarenergy.com.
About Stellar Energy
Stellar Energy is a large-scale solar energy integrator with complete design, engineering, procurement, and construction (EPC) management capabilities. With over 25 MWs of solar PV installations spanning commercial, industrial and municipal clients, Stellar Energy is one of the top solar EPC firms in the nation. For more information, please visit www.stellarenergy.com
About the North Carolina Solar Energy Association
Founded in 1978, the North Carolina Sustainable Energy Association is a 501(c)3 nonprofit membership organization of individuals, businesses, government, and non-profits interested in North Carolina's sustainable energy future.
Featured Product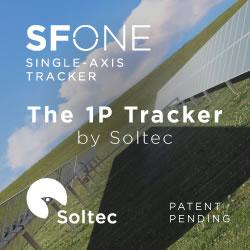 SFOne is the 1P single-axis tracker by Soltec. This tracker combines the mechanical simplicity with the extraordinary expertise of Soltec for more than 18 years. Specially designed for larger 72 an 78 cell modules, this tracker is self-powered thanks to its dedicated module, which results into a lower cost-operational power supply. The SFOne has a 5% less piles than standard competitor, what reduces a 75% the labor time.