This is not the first time that SENER or Tracjusa has been awarded for R&D&i achievements.
Madrid, February 28, 2013. Tracjusa plant has been granted the Bioenergy 2013 prize, awarded by the Technical Association for Waste Management, Urban Sanitation and Environment, ATEGRUS, in recognition of the technological advances carried out by SENER and Tracjusa in manure treatment and reduction in the town of Juneda (Lleida, Spain).

Jerónimo Angulo, President's advisor in SENER's Energy and Environment business area and Tracjusa's responsible for technological development, was the person in charge of receiving the award from the hands of the Executive Manager of ATEGRUS, Rafael Apraiz; of María Valcárcel, Manager of Genera show; and of Alfonso Maíllo, from the Spanish Association for the Energy recovery of Solid Urban Waste (AEVERSU in its Spanish acronym) who wanted to congratulate him on his "tenacity and enthusiasm, which made the success of this project possible". Tracjusa, whose main shareholder is SENER, has carried out relevant technological improvements in the last years, specially, in anaerobic biodigestion.
Tracjusa was granted this award, which recognizes the efforts of organizations and institutions to stimulate technological advances and the establishment of biomass production and recovery facilities, as well as of other energy sources in Spanish municipalities, for its contribution to manure management technology.
Tracjusa was the first plant built implementing the Valpuren® process, whose primary identifying feature is the incorporation of an anaerobic digestion phase, during which biogas is generated, thus permitting to obtain as end product a stable, odorless and high quality fertilizer. Latest technological advances in the Valpuren® process, which this award refers to, have been also patented by SENER.
The commissioning of this plant was completed in 2001 and it has, at present, a manure treatment capacity of 100,000 m3 per year and a cogeneration capacity of 16 MW.
This is not the first time that SENER is awarded for R&D&i achievements. In 2008, the company won the Prince Felipe Award for Business Excellence in the category of Innovative Technology for Large Companies. In 2011, it was awarded the first prize in the Innovation category at the renowned European Business Awards and in 2012, SENER's founder and Honorary President, Enrique de Sendagorta Aramburu, was awarded the National Prize for Lifetime Innovative Achievements.
This is also not the first time Tracjusa is awarded. In 2003, the plant was granted the prize for Agricultural Technological Innovation, awarded by the Department of Agriculture, Livestock and Fishing of the Autonomous Government of Catalonia.
Featured Product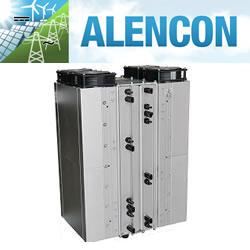 Alencon Systems is the premier manufacturer of high power, high voltage DC:DC optimizers for alternative energy applications including solar, battery energy storage, Microgrids, Fuel Cells and Electric Vehicle charging. Alencon's DC:DC converter offerings include the SPOT, BOSS and CUBE series DC:DC converters. The SPOT is a modular, uni-directional DC:DC solution ideal for solar applications. The BOSS is a modular, bi-directional unit for use with battery energy storage. The CUBE is a monolithic DC:DC converter which is available in both uni-directional and bi-directional modalities. Pictured above, is the Alencon SPOT.