Ballard Power Systems has announced signing of a definitive agreement with Anglo American Platinum Limited.
VANCOUVER, CANADA– Ballard Power Systems (NASDAQ: BLDP)(TSX: BLD) has announced signing of a definitive agreement with Anglo American Platinum Limited (www.angloplatinum.com), under which Anglo American Platinum will invest $4 million in Ballard through its PGM Development Fund, to support continued commercial advancement of the Company's fuel cell products in target market applications.

Anglo American Platinum's interest in the growth of fuel cell market adoption extends beyond the implications for platinum utilization, to the potential transformational impact fuel cells could have on the economy in South Africa.
An example of this latter impact is the joint work currently underway between Ballard and Anglo American Platinum on development of a prototype Home Generator. This product is intended to address the need of many households in remote rural communities for economical electric power. The Home Generator will be built with Ballard fuel cells and run on readily available methanol fuel, utilizing an integrated fuel reformer. Work on the fuel reformer will also benefit Ballard's ElectraGenTM methanol-fuelled systems, which provide power solutions to the telecommunications industry.
Godfrey Oliphant, South Africa's Deputy Minister of Mineral Resources said, "We are very pleased to see Anglo American Platinum's investment in Ballard and their commitment to beneficiation of platinum in South Africa. Fuel cell-based product deployments will be a positive catalyst for growth in global platinum demand. South Africa is the leading producer of platinum and innovations such as the Home Generator project move our country in a positive direction towards participating actively in the application of Platinum Group Metals in new technologies which will create important jobs for our economy."
"This strategic investment from Anglo American Platinum is a tremendous demonstration of Anglo's commitment to fuel cells", said John Sheridan, President and CEO of Ballard Power Systems. "Furthermore, the Home Generator power system that we are jointly developing has the potential for profound impacts in South Africa and elsewhere."
Andrew Hinkly, Executive Head – Commercial for Anglo American Platinum added, "The agreement we have announced is a testament to our confidence in Ballard's commercial and technical abilities as a fuel cell leader as well as our partnership toward completion of the very important Home Generator work. This program will enable our beneficiation strategy in Africa to create jobs in a key growth sector for the economy."
Once Ballard has completed development of a prototype Home Generator system meeting commercial product requirements, the companies will undertake further field trials, potentially leading to the manufacture, distribution and support of a commercial product for the African market.
The investment announced today takes the form of a 5-year non-interest bearing convertible promissory note ("Note") issued by Ballard. The Note may be repaid in the form of Ballard common shares and Anglo American Platinum has the option of repayment on or before the loan maturity date. Any Ballard common shares issued on conversion or repayment would be priced at a 20% discount to the market price of the shares on the closing date of the transaction. Completion of the transaction is subject to regulatory approvals, including that of the Toronto Stock Exchange (TSX), with closing of the transaction expected to occur on March 29.
About Ballard Power Systems
Ballard Power Systems (TSX: BLD) (NASDAQ: BLDP) provides clean energy fuel cell products enabling optimized power systems for a range of applications. Products deliver incomparable performance, durability and versatility. To learn more about Ballard, please visit www.ballard.com.
This release contains forward-looking statements concerning product development activities, market adoption for our products, the impact on those markets and business development opportunities. These forward-looking statements reflect Ballard's current expectations as contemplated under section 27A of the Securities Act of 1933, as amended, and Section 21E of the Securities Exchange Act of 1934, as amended. Any such forward-looking statements are based on Ballard's assumptions relating to its financial forecasts and expectations regarding its product development efforts, manufacturing capacity, and market demand.
These statements involve risks and uncertainties that may cause Ballard's actual results to be materially different, including general economic and regulatory changes, detrimental reliance on third parties, successfully achieving our business plans and achieving and sustaining profitability. For a detailed discussion of these and other risk factors that could affect Ballard's future performance, please refer to Ballard's most recent Annual Information Form. Readers should not place undue reliance on Ballard's forward-looking statements and Ballard assumes no obligation to update or release any revisions to these forward looking statements, other than as required under applicable legislation.
Further Information: Guy McAree +1.604.412.7919, media@ballard.com or investors@ballard.com
Featured Product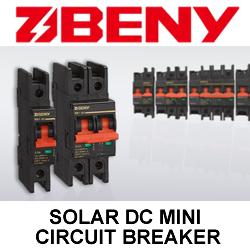 The BB1-63 modular miniature circuit-breakers can be used in solar DC circuits up to 1200 VDC (4-poles execution). Application in solar DC circuits, battery energy storage systems and UPS. Arc flash barrier design keeps solar equipment more safe and reliable. For DC circuit over-current protection.