All eyes are on leading project developers and system manufacturers congregating in Madrid for international conference
CPV International 2013 is only two weeks away, taking place on 21-22 March at the AC Feria Hotel in Madrid and over 150 of the most influential figures, innovators and hands-on experts have now confirmed to attend. The event will bring together leading CPV stakeholders and experts to develop strategies for commercialisation and geographical expansion, particularly into the Middle East and Latin America.

Whilst the high DNI and lack of other renewable energy opportunities makes CPV an exciting opportunity, these new markets have fewer subsidies. Therefore CPV stakeholders must demonstrate a competitive LCOE and a lower CAPEX to commercialise projects in this these areas. Whilst the financing of projects continues to be a major barrier for CPV, current challenges for the industry include developing larger scale projects and minimising manufacturing costs, all key parts of commercialisation. If system costs are to be cut by 30% within the next 3 years, companies need to develop and present their roadmaps to achieving this to increase customer and investor confidence.
Demonstrating the reliability and performance of CPV systems is still a challenge to raise investment and project financing at preferential rates. CPV International will premiere system results from Sunpower, Isofoton, Suntrix and other leading system manufacturers to demonstrate CPV's potential and achievement so far.
As well as established companies, CPV International 2013 will also host CSDR, a revolutionary new systems manufacturer launching their system and sharing their experiences on insurance, financing and quality testing.
The confirmed list of participants is now online and can be found on the event website at:
http://www.pv-insider.com/cpv-international/attendees.php
Or for more details about this event contact Letty Thomas on the details below:
Letty Thomas
lthomas@pv-insider.com
+44 (0) 20 7375 7187
Featured Product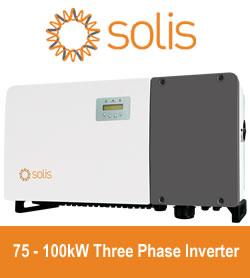 Solis75kW - 100kW series high-power string inverters are widely used in industrial and commercial rooftops. Solis's new three-phase string inverter is the first choice for industrial and commercial photovoltaics. 75-100kW three phase series string inverter have Maximum 28 strings input, support "Y" type connection in DC side. Maximum string input current 13A, support bifacial modules access.Supports anti-PID function to improve system efficiency.