Tentec's bolt tensioning system for wind turbines has been purchased by wind turbine gearbox manufacturer, ZF Industries, for use in its USA manufacturing plant.
A new wind turbine gearbox manufacturing plant in Gainesville, Georgia has purchased a Tentec M42 WTB bolt tensioner system for its production facility. ZF Industries opened its new factory in 2012 and manufactures the Atlas 1 wind turbine gearbox for Vestas.

The Tentec M42 Wind Turbine Tensioners provide the production engineers at the plant with the ability to quickly and accurately carry out bolting on the gearbox casings. Special lifting harnesses have been design to further speed up the operation as there are 60 bolts to be tensioned on each individual gearbox.
In addition to spring returned piston which greatly speeds up the operation, the other main advantage of the Tentec tools is that they are fitted with a spring-loaded device. This automatically engages the tensioner drive socket with the hexagon nut so the operation is completely transparent to the user and no time is wasted aligning the tensioner with the nut.
Tentec has recently produced new product literature that features these tensioners and this can be obtained by emailing Tentec at sales@tentec.net or it can be downloaded from the website at http://www.tentec.net/wtb-datasheet.php
- ends –
Further Details: Roy Sheldon. Tentec Ltd. Plymouth House. Guns Lane, West Bromwich, West Midlands B70 9HS. UK Tel: + 44 (0) 121 524 1990 Fax: + 44 (0) 121 524 1999
E-mail: sales@tentec.net www.tentec.net Twitter: http://www.twitter.com/wind_at_tentec
UK Press Contact:
Eileen Holmes-Ievers. In Press Public Relations Ltd. St John's Chapel, High Street, Lambourn, Berkshire. RG17 8XL. Tel. 01488 674200 Mobile: 07774 968272 E-mail: eileen@inpress.co.uk www.inpress.co.uk
Twitter: http://www.twitter.com/InPressPR
230TEN
March 6, 2013
Featured Product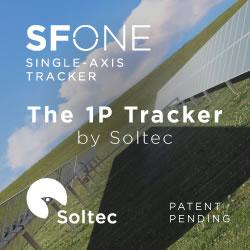 Soltec manufactures and supplies solar trackers designed and proven for extreme climate conditions, which is an ideal solution for any region's environment. Soltec's trackers are self-powered, requiring no additional PV module or grid-powered connection. Bifacial modules collect energy on both the front and rear sides, capturing reflected irradiance from the ground surface under and around the tracker and from other modules. Depending on site conditions, bifacial yield-gain can reach +30 percent.