Duke Energy Has Consented to the Assignment of the Power Purchase Agreement to Blue Sphere's Subsidiary!
EVEN YEHUDA, Israel, March 5, 2013 -- Blue Sphere Corp.

(OTCBB:BLSP) (the "Company" or "Blue Sphere"), a company in the Cleantech
sector as a waste-to-energy and clean energy project integrator, is pleased
to announce Duke Energy, the largest utility in the United States, has
consented to the transfer of the power purchase agreement it signed in
respect of the 5.2 MW waste-to-energy plant in North Carolina to Blue
Sphere's subsidiary -- Bino Sphere LLC.
"This cements the transfer of the project to the Company. We are in the
countdown to the commencement of project construction. In parallel, we are
approaching the same status for our 3.2 MW plant in Rhode Island,"
said Shlomi Palas, CEO of Blue Sphere Corp.
For further information please contact Shlomi Palas at 972 50 779 6794 or
info@bluespherecorporate.com.
About Blue Sphere Corp.
Blue Sphere Corp. is a company in the cleantech sector as a waste-to-energy
project Integrator. Blue Sphere develops waste-to-energy and other renewable
energy projects. The Company aspires to become a key player in the global
waste-to-energy and renewable energy markets. For further information please
visit the Company's website www.bluespherecorporate.com.
Featured Product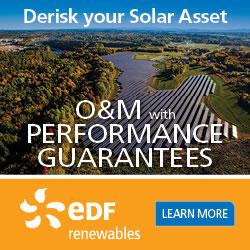 EDF Renewables offers the same innovative solutions that maximize the performance of our own 5.2 GW of installed projects. Because we're not an equipment manufacturer, our recommendations are transparent and data-driven. We cover the entire project lifecycle: from pre-commissioning support, through warranty and post warranty operation, to late stage and decommissioning.