Ex-Im Bank approves loan to Honduran power company to support 200 U.S. jobs through export of wind turbines made in America.
WASHINGTON, D.C. March 06, 2013

Two hundred Pennsylvanian workers will assemble twelve high-tech wind turbines for export, because the Export-Import Bank of the United States (Ex-Im Bank) approved a $28.6 million direct loan to a Honduran power company. The transaction helps to expand a project first supported by the Bank in 2010, when its long-term financing of 51 U.S.-built turbine generators established the Cerro de Hula Wind Farm in Santa Ana, Honduras. The project developer and borrower, Energía Eólica de Honduras S.A., will sell the electricity to the Central American nation's utility, Empresa Nacional de Energía Eléctrica.
"Building on the success of this impressive project, Ex-Im Bank is demonstrating the importance of its role to fill gaps in financing for creditworthy borrowers," explained Fred P. Hochberg, chairman and president of Ex-Im Bank. "With this project, we've achieved an impressive win all around: for exporters, for U.S. workers, and for energy consumers in Honduras, because the wind-driven generators cost less to operate than their equivalent in fossil-fueled equipment."
Gamesa Wind US, LLC, a technology firm based in Trevose, Pennsylvania, will manufacture and export six each of its high-efficiency model G87 and G-97, 2.0 MW turbines to generate electric power in rural Honduras. Gamesa operates two facilities in the U.S., a blades factory in Ebensburg, near Johnstown, and a nacelle plant outside Philadelphia. In 2011, Gamesa was named Ex-Im Bank's "Renewable Energy Exporter of the Year." Other U.S. exporters involved in the project will also benefit. They include engineering contractors, financial and legal advisors, and represent jobs in the states of Massachusetts, New York, Oklahoma, Oregon, and Texas.
The Cerro de Hula Wind Farm now produces about six percent of the electrical power in Honduras. With the additions from this transaction, the wind farm will have 63 wind turbines and a total installed capacity of 126MW providing power to the national electric utility.
"The Americas are still far from realizing the full potential of a clean energy economy," said Gamesa North American chairman David Flitterman. "But at Gamesa, we're proud to manufacture American-made wind turbines that get shipped from our U.S. plants to countries far and wide. While the U.S. wind industry slowly is recovering after late renewal of the U.S. Production Tax Credit in January, thanks to Ex-Im Bank these export projects are creating new business opportunities in emerging markets, and are supporting good-paying jobs throughout the entire supply chain."
The exporter is a technology firm with manufacturing operations in Pennsylvania, and is a subsidiary of Gamesa Technology Corporation, a sustainable-energy concern headquartered in northern Spain. It ranks as the fourth-largest manufacturer of wind turbines and is in the top ten globally for wind farm development. Gamesa builds photovoltaic power stations and wind farms on land and off-shore. Although the parent company is Spanish, Ex-Im Bank provides financing only for goods and services associated with production by U.S. workers.
ABOUT EX-IM BANK:
Ex-Im Bank is an independent federal agency that helps to create and maintain U.S. jobs by filling gaps in private export financing at no cost to American taxpayers. In the past five years (from Fiscal Year 2008), Ex-Im Bank has earned for U.S. taxpayers nearly $1.6 billion above the cost of operations. The Bank provides a variety of financing mechanisms, including working capital guarantees, export-credit insurance and financing to help foreign buyers purchase U.S. goods and services.
Ex-Im Bank approved a total of $35.8 billion in authorizations in FY 2012 – an all-time Ex-Im record. This total includes more than $6.1 billion directly supporting small-business export sales – also an Ex-Im record. The Bank's authorizations in FY 2012 are supporting an estimated $50 billion in U.S. export sales and about 255,000 American jobs in communities across the country. For more information, visit http://www.exim.gov.
Featured Product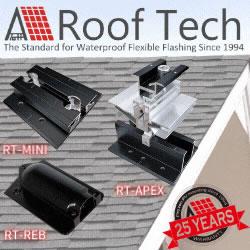 Now Roof Tech brings you the most innovative, watertight mounting systems ever developed for solar photovoltaic systems. Designed and manufactured exclusively for us by Japan's longtime leader in roofing technologies, Roof Tech products are 100% code-compliant and offer fast, simple installation and huge savings on shipping costs due to their compact, rail-less design. Learn more about our full line of versatile PV mounting solutions now available for residential installations. The next generation in rooftop solar mounting solutions."