X-2000 wind turbine: 5 blades, light weight, high output power, off grid system and grid tie system . This model and design is unique in the markets .
The rising price of electricity, the government's support for renewable energy systems, make now the perfect time to invest in wind energy.And with 10 years of engineering experience and some of the world's most trusted technology, NEWMEIL is your prudent partner of choice.

Weicome to contact us for more information . www.newmeilwindturbine.com
Suzhou Newmeil Corp.
Featured Product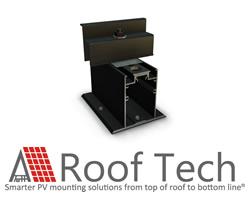 The most compact versatile rail-less PV mounting system under the sun. Instead of placing solar panels on top of long rails, simply attach E Mount AIR to rafters or the roof decking. Once panels are fastened to the roof, the system array is electrically bonded. The result is a visually seamless PV installation that stands the test of time. - Truly "One With The Roof". - PE stamped cert. letters available, UL 2703 Classified, ASTM 2140 fully waterproof. The one and only with integrated flexible flashing certified by the ICC! All the best quality. Only from Roof Tech