At Hannover TÜV SÜD will showcase services for renewables and smart grids, energy efficiency and energy management in industry, and the safety and security of embedded systems. The experts can be found at the trade fair Energy (Hall 13, stand C48) and the trade fair Wind (Hall 27, Stand H26).
In the energy sector, TÜV SÜD offers solutions throughout the value chain from energy generation to energy transmission and distribution and energy consumption. The experts support the further development of renewables in Germany and throughout the world. "Our technical due diligence supplies project developers and investors with a sound foundation on which they can build their projects in the field of renewables", says Dr Boris Gehring, Head of the Industry Service Division of TÜV SÜD AG. The international provider of testing and certification services is also continuously expanding its activities in the fields of wind power and photovoltaics, which are expected to boost their share of total electricity generation across all continents. By acquiring UK wind power specialist PMSS in 2012, for example, TÜV SÜD complemented its premium services and global network of expertise, further strengthening its position in this important growth sector.

In photovoltaics, too, TÜV SÜD is continuing on its growth path. The international service provider supports the realisation of PV power plants, offering a complete service package of solutions throughout the value chain from planning to performance monitoring and plant optimisation. In parallel to these offers, the service group continuously expands its global test infrastructure for PV modules and PV components, the most recent example being the cutting-edge laboratory opened in Straubing, Bavaria. "We have already put the testing facilities for PV inverters into service", reports Dr.-Ing. Gian Maria Fontolan, PV expert, TÜV SÜD Product Service GmbH. "Our laboratory offers all tests that are required for market approval in one or several countries." The range of testing services covers electromagnetic compatibility (EMC), safety, grid integration of PV power plants and the overall efficiency of PV inverters.
Safety and security of smart grids
Upgrading our existing electricity networks to smart grids to enable the automatic control of supply and demand is one essential prerequisite for the further development of renewables. Also critical for the realisation of these smart grids are embedded measurement and control systems and standardised communication. "The IEC 61850 standard may define a uniform communication standard, but in the medium- and low-voltage range there is still a pronounced lack of devices that actually meet this standard", says Maurizio Scavazzon, Product Manager IEC 61850, in the Embedded Systems focus area of TÜV SÜD AG. As a UCA-accredited testing laboratory and centre of excellence for IEC 61850, TÜV SÜD supports device manufacturers in the implementation and documentation of communication requirements. Higher security requirements for intelligent grids are another focus topic. Apart from functional safety, protection against malicious attacks – espionage and sabotage – will be a central subject in the future. The "Safety & security in a smart energy world" survey, which TÜV SÜD will present at the Hannover Messe, also focuses on this topic.
Improved energy efficiency, less consumption and reduced costs
Smart solutions are in high demand, not only for energy transmission and distribution, but also for energy use. "Energy costs" will become increasingly important for many companies", says Dr Gerd Streubel, Head of Energy Efficiency Industry International at TÜV SÜD Industrie Service GmbH. "Given this, industry is looking for methods and systems that reduce energy consumption and improve energy efficiency." TÜV SÜD's experts support their clients by providing a wide range of services – from energy consultancy in accordance with the EN 16247 standard to support in the establishment of energy management systems. TÜV SÜD's energy efficiency certificates – such as the Energy efficient plants and systems certificate – even provide companies with dual benefits: The experts point out possible areas of improvement during certification, while successful certification provides companies with demonstrable proof of energy efficiency.
TÜV SÜD will present two talks in the Forum Efficiency Arena – Energy Efficiency In Industrial Processes (Hall 14/15, Stand K09):
• Energy consultancy in accordance with EN 16247 – a cost-efficient audit procedure for small and medium-sized enterprises (SMEs), Dr Michael Bunk, TÜV SÜD Industrie Service GmbH, Monday, 8 April 2013, 2:30 to 3:00 pm (the talk will be held in German);
• Energy and resource efficiency in plant engineering, Dr Maria D. Alonso Craus, TÜV SÜD Industrie Service GmbH, Wednesday 10 April 2013, 2:30 to 3 pm (the talk will be held in German).
In addition, Dr Kai Strübbe, Head of Embedded Systems of TÜV SÜD AG, will represent the international service provider in the Safety panel of the "Metropolitan Solutions" forum, taking part in the discussion on Monday 8 April 2013 from 4:30 to 6 pm.
Featured Product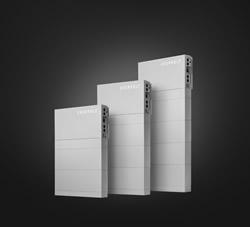 Offer homeowners best-in-class solar and energy storage in one money-saving bundle. Panasonic's new EverVoltâ"¢ Series modules come in 350W, 360W, 370W & 380W models and work seamlessly with their EverVolt battery storage - all warrantied by one of America's most trusted brands.