Sullivan Solar Power to install 784,000 watts of additional solar power on campus
San Diego, CA March 12, 2013

Sullivan Solar Power has announced that it will be installing nearly 784,000 watts of new solar power at the University of California, San Diego (UC San Diego). Not only will the additional solar power project save the university about $2 million over 20 years, but it is also showcasing the academic institution as a leader in sustainability while supporting the local and national economies.
"This partnership is an excellent example of how UC San Diego and industry can catalyze exciting results that will have a profound impact both locally and around the globe," said UC San Diego Chancellor Pradeep K. Khosla, "UC San Diego is a living laboratory for climate change research and solutions. Our clean energy initiatives are part of our comprehensive approach to creating a more sustainable future."
UC San Diego has become a state leader in deployment of solar power, now having more solar deployed than any other university in San Diego. All told, UC San Diego will have about three million watts of solar on its facilities with the new project. It is estimated that all these systems combined will reduce CO2 emissions by more than three million pounds per year.
"UC San Diego is an incubator for innovation, and has proven itself to be a leader in California for clean technologies, with a particularly impressive solar portfolio," said Daniel Sullivan, founder and president of Sullivan Solar Power. "We are very excited to embark on this new project to further assist the university in becoming more energy independent."
To support the national economy, the solar panels, inverters and racking materials specified for the newly-awarded project are all manufactured in the United States. Sullivan Solar Power will be installing 1,986 SunPower 435-watt modules, the most efficient crystalline solar panel on the planet, manufactured in Richmond, CA. Advanced Energy Inverters, manufactured in Bend, Oregon, will be used for the project. Sullivan prides his company on using proven, quality materials and certified workers for his solar installations.
The exciting new 763,858-watt UC San Diego solar project will be across seven different sites on the campus: the Biomedical Sciences Library; the Biomedical Science Building; the Bioengineering Building; the Central Utility Plant; the Leichtag Biomedical Research Building; Mayer Hall; and the San Diego Supercomputer Center. In addition to the solar installations, the project will include five more electric vehicle (EV) charging stations.
As a part of UC San Diego's Campus Clean Renewable Energy Project, Sullivan Solar Power installed 763,858 watts of solar energy. Sullivan Solar Power also has installed car chargers with Ecotality for the campus's electric vehicle fleet. Currently there are six fleet chargers and seven public chargers operational on campus, with another five workplace chargers at other UC San Diego facilities, all installed by Sullivan Solar Power.
"Our campus is a leader in energy advancements," said Dave Weil, UC San Diego director of building commissioning and sustainability, "UC San Diego generates more than 90 percent of its electricity with an ultra-clean and efficient natural-gas-fired cogeneration plant, renewable energy fuel cell and solar photovoltaics and we're making progress toward achieving carbon neutrality by 2025."
Sullivan Solar Power is also currently installing a solar power system on UC San Diego's Marine Ecosystem Sensing, Observation and Modeling Laboratory (MESOM) through San Diego Gas and & Electric's Sustainable Communities Program, which provides locally-generated energy to the community through utility-owned clean energy. The 61,479 watt solar array is slated for completion in late April.
"It is especially rewarding to install solar power systems and EV infrastructure for UC San Diego," said Sullivan, "Being an academic institution, we know that these projects serve as an example for the future leaders and great minds of this region and nation."
For additional information about Sullivan Solar Power please call 1-800-SULLIVAN or visit http://www.sullivansolarpower.com, or for more details about UC San Diego sustainability projects, visit http://sustainability.ucsd.edu/.
About Sullivan Solar Power
Sullivan Solar Power is a turnkey solar system provider that delivers solar electric projects from concept to completion. The company has installed over 14,000,000 watts of solar power ranging from small-scale residential to large-scale commercial and municipal systems. Sullivan Solar Power is headquartered in San Diego, CA and owned and operated by Dan Sullivan. Sullivan Solar Power has a longstanding A-plus rating with the Better Business Bureau, with no complaints filed since the business began. The firm has been named one of the fastest growing energy companies in the nation by Inc. Magazine for three consecutive years and services all of Southern California. Regardless of project size and scope, Sullivan is committed to delivering the best products and the most qualified professionals to its customers. Visit http://www.sullivansolarpower.com for more information.
Featured Product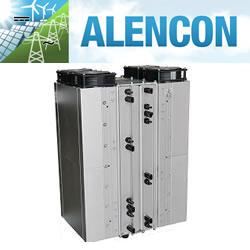 Alencon Systems is the premier manufacturer of high power, high voltage DC:DC optimizers for alternative energy applications including solar, battery energy storage, Microgrids, Fuel Cells and Electric Vehicle charging. Alencon's DC:DC converter offerings include the SPOT, BOSS and CUBE series DC:DC converters. The SPOT is a modular, uni-directional DC:DC solution ideal for solar applications. The BOSS is a modular, bi-directional unit for use with battery energy storage. The CUBE is a monolithic DC:DC converter which is available in both uni-directional and bi-directional modalities. Pictured above, is the Alencon SPOT.