Active diode reduces photovoltaic junction box temperature by 50 degrees C
DALLAS (Mar. 12, 2013) – Texas Instruments Incorporated (TI) (NASDAQ: TXN) today introduced a smart bypass diode in a standard surface-mount package with 15-A current handling capability and the industry's lowest power dissipation. In a typical application, each SM74611 lowers power dissipation by 80 percent and reduces the operating temperature inside the junction box by 50 degrees C when compared with a similar box using three conventional Schottky diodes. Watch a video demonstration at www.ti.com/sm74611-prv.

TI will demonstrate the SM74611 in its booth #109 at the Applied Power Electronics Conference and Expo (APEC) in Long Beach, Calif., Mar. 18-20. Attend a seminar at APEC, "Smart Bypass Diodes Enable Electronics in the PV Junction Box," on Tuesday, Mar. 19, at 2:15 p.m. in meeting room 102B.
When a photovoltaic (PV) solar panel is shaded, the SM74611 active diode provides an alternate low-resistance path for string current to prevent hot spots that can damage the panel. The SM74611 protects the panel and improves PV solar panel reliability by boosting efficiency, and the reduced thermal dissipation enables more compact junction boxes with smaller heat-sinks.
"More stringent safety standards for junction boxes and increased currents from the newest generation of high-efficiency PV modules cannot be handled with conventional Schottky bypass diodes without significantly increasing the physical size of the junction box," said Jörg Schmidt, director of sales for PV-Connecting Systems at Kostal Industrial Electronics. "TI's SM74611 smart bypass diode enables us to easily increase the current rating of our line of SAMKO junction boxes from 10 A to 13 A without changing the physical design."
The SM74611 joins TI's family of solar products that include the UCD3138 digital power controller for solar micro-inverters, SM72441 maximum power point tracking controller and SM72295 full bridge driver. For more information about TI's solutions for solar power, visit www.ti.com/solar-pr.
Key features and benefits of the SM74611 smart bypass diode
*80-percent lower power dissipation than Schottky diodes reduces ambient temperature inside the junction box by 50 degrees C, improving the current rating of existing junction boxes, as well as enabling smaller boxes with improved current rating.
*Current handling up to 15 A with no avalanche effect.
*Reduced leakage current in both forward and reverse operation increases energy harvesting yield in PV arrays compared to traditional arrays using Schottky diodes.
*D2PAK package is a drop-in replacement for conventional surface-mount Schottky diodes.
Availability, packaging and pricing
The SM74611 smart bypass diode is available in volume now from TI and its authorized distributors. Offered in a two-terminal D2PAK package that measures 10.2 mm by 9 mm by 4.5 mm, the SM74611 is priced at US$1.50 in 1,000-unit quantities.
Find out more about TI's solar products:
*Order samples and an evaluation module of the smart bypass diode: www.ti.com/sm74611-pr.
*Get more information on all of TI's solar products: www.ti.com/solar-pr.
*Design a complete power management system online with TI's WEBENCH® Power Designer: www.ti.com/webenchpwr-pr.
*Ask questions and share knowledge in the power forum in the TI E2E™ Community: www.ti.com/powerforum-pr.
*Download power reference designs from TI's PowerLab™ Reference Design Library: www.ti.com/powerlab-pr.
About Texas Instruments
Texas Instruments Incorporated (TI) is a global semiconductor design and manufacturing company that develops analog ICs and embedded processors. By employing the world's brightest minds, TI creates innovations that shape the future of technology. TI is helping more than 100,000 customers transform the future, today. Learn more at www.ti.com.
Featured Product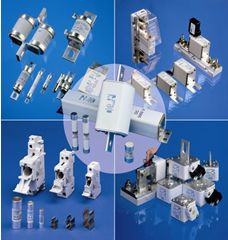 SIBA Fuses: your trusted source for all your circuit protection applications, from solar power to wind power. We are the world leaders in these applications and the most trusted name for your circuit protection needs. We have been working for over 70 years in semiconductor fuses, including ULTRA RAPID®, medium, and high voltage, standard European, miniatures, electronic fuses, and a wide range of DC rated fuses (24 VDC - 5000 VDC) for all types applications. We work with medium and high voltage fuses for protection of transformers, including submersibles, motors, medium and high voltage switchgear, compact substations, cable feeders, and high voltage capacitor circuits. New: Full line of PV UL Listed fuses and fuse holders. Contact us today for more information on our products and services.