"Many of the countries across Asia Pacific have started to put forth innovative advanced battery technologies and different pathways to market"
BOULDER, Colo.--Most of the research, development, and demonstrations of native energy storage technologies in the Asia Pacific region are advanced batteries, specifically advanced lithium ion, sodium sulfur, and flow batteries. Growing interest in advanced batteries is being driven by the integration of variable renewable energy sources, such as solar and wind, as part of an effort to curb global greenhouse gas emissions. According to a recent report from Pike Research, a part of Navigant's Energy Practice, the total capacity of advanced batteries for utility-scale applications in Asia Pacific will reach 25.1 gigawatts by 2022.

"Many of the countries across Asia Pacific have started to put forth innovative advanced battery technologies and different pathways to market," says senior research analyst Anissa Dehamna. "Most advanced economies in the region, including Japan, South Korea, and Australia, are moving toward smart grid and microgrid energy delivery models, which form natural tie-ins for energy storage, particularly batteries."
The technical diversity of energy storage projects in Asia Pacific primarily reflects the large domestic base of research and development and manufacturing for battery technologies, according to the report. Sodium sulfur batteries constitute the largest number of deployed storage projects in the region. While advanced batteries are staged to play a large role in the development of power sectors across Asia Pacific, bulk energy storage technologies, such as pumped hydro, will continue to play an important role in emerging markets like China.
The report, "Energy Storage in Asia Pacific", explores the market opportunity and current market issues for energy storage systems, focusing on advanced batteries in Asia Pacific. The study includes an assessment of the technical characteristics of advanced battery technologies such as lithium ion, sodium sulfur, advanced lead-acid, sodium metal halide, and advanced flow batteries. Key industry players are profiled and global market forecasts for installed capacity and revenue for utility scale applications in Asia Pacific, segmented by country, are provided through 2022. An Executive Summary of the report is available for free download on the Pike Research website.
About Pike Research
Pike Research, which joined Navigant's global Energy Practice on July 1, 2012, provides in-depth analysis of global clean technology markets. The team's research methodology combines supply-side industry analysis, end-user primary research and demand assessment, and deep examination of technology trends to provide a comprehensive view of the Smart Energy, Smart Utilities, Smart Transportation, Smart Industry, and Smart Buildings sectors. Additional information about Pike Research can be found at www.navigant.com/pikeresearch.
About Navigant
Navigant (NYSE: NCI) is a specialized, global expert services firm dedicated to assisting clients in creating and protecting value in the face of critical business risks and opportunities. Through senior level engagement with clients, Navigant professionals combine technical expertise in Disputes and Investigations, Economics, Financial Advisory and Management Consulting, with business pragmatism in the highly regulated Construction, Energy, Financial Services and Healthcare industries to support clients in addressing their most critical business needs. More information about Navigant can be found at www.navigant.com.
Featured Product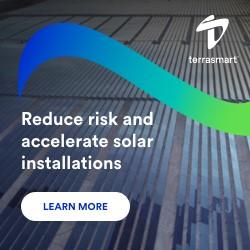 The first and only single axis tracker that allows you to turn unusable land into valuable assets. Built tough for reliable performance, TerraTrak will maximize energy output and returns conquering the most challenging sites. Employ PV where you never thought possible through durable mechanics and intelligent control technology.