TCI will provide H5 Active Harmonic Filters to meet utility IEEE-519 requirements. The H5 units will provide clean power back on to the utility grid and allow the utility to provide clean power to its customer base.
Over 1700, 2 Axis, Mirror Heliostats using variable speed postioning drives will be used at the Solar Reserve Crescent Dunes facility in Tonopah, Nevada.

TCI has completed a harmonic analysis study and will provide the harmonic filters to reduce both current and voltage harmonic content below 5% TDD.
Featured Product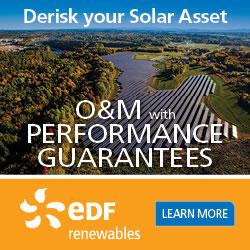 EDF Renewable Services is the trusted leader to maximizing solar project performance. Our passion is optimizing renewable energy assets, and we have 10 GW of projects under O&M contract to prove it.