TCI will provide H5 Active Harmonic Filters to meet utility IEEE-519 requirements. The H5 units will provide clean power back on to the utility grid and allow the utility to provide clean power to its customer base.
Over 1700, 2 Axis, Mirror Heliostats using variable speed postioning drives will be used at the Solar Reserve Crescent Dunes facility in Tonopah, Nevada.

TCI has completed a harmonic analysis study and will provide the harmonic filters to reduce both current and voltage harmonic content below 5% TDD.
Featured Product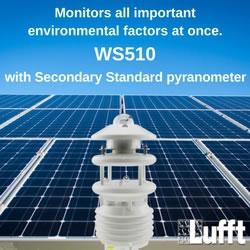 Professional weather sensors form the heart of large solar plants supporting their operation and performance. Lufft was the first manufacturer to combine several sensors in one housing, bringing the largest multiparameter weather sensor family with 19 members into being. Many of them are well-suited for solar site assessment and continuous monitoring. The most commonly used one is the WS600 delivering data on temperature, air pressure, wind, relative humidity and precipitation. Through its open protocol, it can easily be attached to radiation sensors e.g. from Kipp&Zonen. Other models have an integrated Silicon, Second Class or Secondary Standard radiation sensor.