All Eco Energy discuss their views on how tariffs being put on Chinese imported Solar PV modules could impact the EU and US solar industry.
March 19, 2013

According to a report from EUROPA published on 6 September 2012, the European Commission are undertaking an investigation into claims that solar panels coming into Europe from China are being sold below market value. The investigation was sparked by European solar manufacturers and could lead to anti-dumping duties being imposed on Chinese made solar panels in an attempt to 'balance' world trade.
The investigation has also led to claims that the possible subsidisation by the Government of China has resulted in leaving key names in the EU and US solar industries unable to compete and therefore suffering significant losses.
In a recent article on the All Eco Energy website, Chris Sutor discusses how these investigations could impact the solar industry. In his article Chris discusses whether or not campaigns to have tariffs imposed on Chinese solar components should be supported.
"At first glance, a fair, balanced trade environment in which all parties can flourish on their own merits would appear to be the best way forward. EU manufacturers could prosper, if they get their strategy correct. All manufacturers have a chance of making a profit, employees are kept in EU manufacturing."
"Looking deeper into the situation, however, one can take a different view. If reports of subsidies are correct we are then in the perverse situation that China has been paying for EU renewable energy installations. This means that FIT rates in the EU could be lowered, reducing any 'burden' that renewables may place on EU countries. This is, in effect, Chinese subsidising of the EU solar PV market."
Chris goes on to talk of how the action is developing, how the action has already affected the industry and how it will continue to do so.
Chris Sutor is the Managing Director of All Eco Energy, one of the largest UK specialist solar PV distributors and developers of turnkey solar power plants and Biomass boilers. To read his full article please visit http://www.allecoenergy.co.uk/Tariffs-on-Chinese-Solar-Products.html.
Featured Product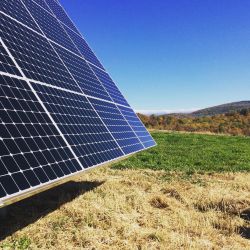 Designed and manufactured in the U.S., the AllEarth Solar Tracker is a complete grid-tied, dual-axis solar electric system that produces up to 45% more electricity than fixed systems. The tracker uses GPS and wireless technology to follow the sun throughout the day for optimal energy production. It has an industry-leading 10 year warranty and 120 mph wind rating, superior snow shedding, and automatic high wind protection. Its simple, durable design and complete system pallet simplifies costly procurement and installation time. Contact us about becoming a dealer partner or purchasing an AllEarth Solar Tracker.