At the leading trade fair Wind, TÜV SÜD will showcase its entire service portfolio for offshore and onshore wind power. By acquiring UK-based PMSS in 2012, TÜV SÜD complemented and further expanded its premium services and its global network of expertise (Stand H26, Hall 27).
"By acquiring PMSS, we have come one step closer to our goal of becoming a global leading service provider for the wind-power industry", says Dr Boris Gehring, Head of the Industry Service Division of TÜV SÜD AG. The experts at TÜV SÜD and PMSS can now use their expanded service portfolio and know-how to offer their clients effective support for large-scale offshore projects.

Offshore wind power offers highly promising potential in Germany, Europe and throughout the world. 293 new turbines with a total capacity of 1,166 megawatts were connected to the grid last year alone – a plus of 31 per cent."Following improvement of the legal framework conditions, the industry is also regaining momentum here in Germany", explains Alexander Heitmann, Head of Offshore Wind Services at TÜV SÜD Industrie Service GmbH in Hamburg. Key success factors in the realisation of these ambitious offshore projects are on-schedule completion, supply chains, quality assurance and risk management. Alexander Heitmann affirms, "This approach needs a diversified partner with the ability to offer integrated support for large-scale projects."
TÜV SÜD acquired PMSS in 2012, significantly extending its renewable energy service portfolio. PMSS is a global consulting firm that has worked exclusively in renewable energy since 1994. PMSS is the trusted advisor to some of the world's leading renewable power businesses and institutions, providing products, services and insights to private, public and independent sector organisations. "The combined people, intellectual capital and front-line experience of PMSS and TÜV SÜD will now be utilised to provide first-class services and enduring results for our clients and their projects", underlines Alan Chivers, Division Director of PMSS. To date, PMSS has delivered support services for a total of over 50,000 MW of offshore projects across Europe, Asia-Pacific and North America.
Developing profitable onshore sites
Inland areas and, in particular, locations on minor mountain ranges also offer unused potential. At these locations, technological improvements and hub heights in excess of 140 metres have made it possible to harvest wind power at great heights where wind velocities are high. "Due to increasingly high towers of 140 metres and more and large rotors, wind farms have now become possible even at sites with low wind-speed conditions and difficult topography", reports Peter-Herbert Meier, Head of Wind Cert Services at TÜV SÜD Industrie Service. However, compared to wind farms in lowland areas, these sites involve more complex cost-benefit analyses and significantly higher project costs. Meier notes, "Reliable predictions of future yields are imperative to see whether a project will be profitable in the long run."
To provide a detailed assessment of wind conditions, TÜV SÜD's experts measure wind speed and direction in accordance with the relevant standards and also take into account the specific situation on site. A wind monitoring mast combined with cutting-edge laser methods (LIDAR systems) supplies the data required for the prediction of energy yield, cost-benefit analysis, and expert opinions on extreme wind conditions and turbulence. Using powerful 2D or 3D simulation models, the experts calculate future annual output and prepare bankable reports on behalf of owners and investors. Inspection of wind-farm plans, components and generators at an early stage in the project provides additional security and reliability in project planning.
In Hanover, TÜV SÜD's experts can be found at the leading trade fair Wind (Hall 27, Stand H26) and the leading trade fair Energy (Hall 13, Stand C48).
Featured Product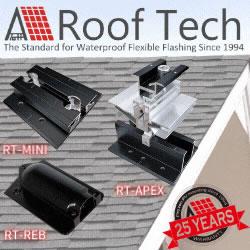 Now Roof Tech brings you the most innovative, watertight mounting systems ever developed for solar photovoltaic systems. Designed and manufactured exclusively for us by Japan's longtime leader in roofing technologies, Roof Tech products are 100% code-compliant and offer fast, simple installation and huge savings on shipping costs due to their compact, rail-less design. Learn more about our full line of versatile PV mounting solutions now available for residential installations. The next generation in rooftop solar mounting solutions."