The system is instrumental in pushing the boundaries of technology to make CPV a more competitive option for solar power.
PLAINVIEW, N.Y.--Veeco Instruments Inc. (Nasdaq: VECO) announced today that the world record for energy efficiency of a commercial-ready production solar cell by Solar Junction was achieved on its Dual GEN200® Molecular Beam Epitaxy (MBE) System.

Solar Junction, a developer of high efficiency multi-junction solar energy cells for the concentrating photovoltaics (CPV) market, reported last October that the power conversion efficiency of their CPV cells was measured at an unprecedented 44 percent at 947 suns, as verified by the National Renewable Energy Laboratory (NREL).
Homan Yuen, Ph.D., Solar Junction's Vice President of Research & Development, commented, "Veeco's MBE system enables us to reach critical milestones in solar cell efficiency. Their system is instrumental in pushing the boundaries of technology to make CPV a more competitive option for solar power."
Jim Northup, Veeco's Vice President and General Manager, commented, "We wholeheartedly congratulate Solar Junction on their world record, and are committed to supporting their new facility's production ramp. The GEN200 is the ideal pilot production tool, and we take great pride in providing the deposition platform for this ground-breaking result."
The GEN200 MBE cluster-tool design provides the material source and wafer configuration flexibility for R&D or for multi-wafer production applications. The flexibility of the cluster tool design enables the GEN200 system to deliver higher throughput and lower cost per wafer, in a footprint up to 60% smaller than comparable MBE systems. It can support dual growth modules, allowing facilities to either greatly increase production or grow different materials within a single, integrated system.
About Solar Junction
Solar Junction is a manufacturer of high efficiency III-V multi-junction solar cells based on A-SLAM™ materials. The Company is dedicated to providing the industry's highest efficiency solar cells to enable CPV as a cost effective energy solution. Founded in 2007, Solar Junction is headquartered in San Jose, California. Investors include New Enterprise Associates, Draper Fisher Jurvetson, Advanced Technology Ventures, and IQE. For more information, please visit http://www.sj-solar.com.
About Veeco
Veeco's process equipment solutions enable the manufacture of LEDs, power electronics, hard drives, MEMS and wireless chips. We are the market leader in MOCVD, MBE, Ion Beam and other advanced thin film process technologies. Our high performance systems drive innovation in energy efficiency, consumer electronics and network storage and allow our customers to maximize productivity and achieve lower cost of ownership. For information on our company, products and worldwide service and support, please visit www.veeco.com.
Featured Product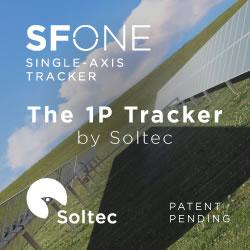 SFOne is the 1P single-axis tracker by Soltec. This tracker combines the mechanical simplicity with the extraordinary expertise of Soltec for more than 18 years. Specially designed for larger 72 an 78 cell modules, this tracker is self-powered thanks to its dedicated module, which results into a lower cost-operational power supply. The SFOne has a 5% less piles than standard competitor, what reduces a 75% the labor time.