Global Increases in Sourcing Clean Energy Solutions Creates A Surge in Talent Demands for the Renewable Energies Sector
NEW YORK, NY - It's no doubt that the demand for solar power, wind energy and other cleaner energy sources has sharply increased over the last several years. In fact, renewable energy is expected to be the fastest growing source of primary energy over the next 25 years, according to the U.S. Energy Information Administration. And now with the industry predicting a 40% jump in solar power use for 2012 alone, there are signs that renewable energy has finally come of age (MarketWatch - March 2012).

With the recent influx of advanced solutions needed for green energy, and, increases in manufacturing cleaner power projects, the need for people with highly-specialized skills relevant to the renewable energy sector has also dramatically increased. It's no wonder that some recruitment companies like EnergeiaWorks, an executive staffing firm specializing in sourcing talent for renewable energy companies, has started to experience growth and intense demand for filling the various career opportunities now so prevalent in the green energies sector.
"In spite of many businesses still operating in an unpredictable global market, executive hiring continues to be on the rise in key areas like the wind, solar power and geothermal energies sectors where job opportunities are on the rise and where leadership gaps still exist", said William Liuzza, Chief Executive Officer of EnergeiaWorks. "Since most renewable energy projects are relatively complex and large-scale, companies are looking to hire leaders who can effectively steer them through the new developments and scientific advances needed to further grow their renewable energy solutions."
New legislation is also driving up the demand for jobs in the clean energy sector. The American Recovery and Reinvestment Act has an energy-specific provision aimed at creating more than 500,000 jobs. Moreover, in the United States, approximately 2.7 million clean economy jobs have been created in the past decade; in China, more than 4.5 million green jobs can be created by the end of this decade, according to the Natural Resources Defense Council.
"Regulations supporting the growth of new energy development will further impact the escalating need for skilled workers", Liuzza stated. "Additionally, as we continue to deplete the earth's fossil fuels, the demand for skilled executives and experts in the sustainable and new energy technologies industries will continue to drastically increase. We are just beginning to understand how to capture, control, store, and utilize sunlight, wind, rain, tides, and geothermal power for everyday consumption. EnergeiaWorks was established to channel the demand for top talent who can help satisfy the urgent need for cleaner and greener technologies."
EnergeiaWorks utilizes a business model that is specifically designed to source and identify individuals with the unique and highly-specialized skills relevant to the renewable energy sector.
In addition, the company maintains a talent-bank of the industry's top engineers, consultants, contractors and executive managers created to meet a variety of staffing needs for its clients, including permanent employees, short-term contractors or long-term consultants.
For more information about EnergeiaWorks visit www.energeiaworks.com.
ABOUT ENERGEIAWORKS
EnergeiaWorks is an executive staffing firm specializing in the renewable energy sector. The company's corporate clients include software developers, service providers, consulting firms, government organizations, venture capital firms, and hardware manufacturers ranging from Fortune 500 corporations to new start-ups.
Based in New York City, EnergeiaWorks delivers engineers, consultants, contractors and executive managers for companies in need of highly-specialized skills. In addition, the company serves an international client base with the flexibility of contingency or retained search for full-time, part-time and billable consultant hires.
Contact: Kimberley Brown
EnergeiaWorks
kimberley@energeiaworks.com
phone: 404-314-2900
Featured Product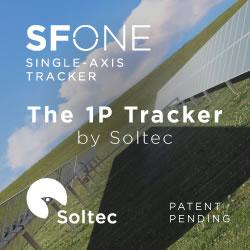 Under the slogan "engineered for greatness", the SF8 tracker aims to revolutionize the photovoltaic market with its new minimum 2x60 configuration and 4 to 6-strings. This tracker is elegantly designed while it reinforces its structure to perform in any terrain. In addition, the SF8 tracker increases the rigidity of its structure by 22% more than the previous generation of Soltec trackers, the SF7. The SF8 is specially designed for larger 72 and 78 cell modules, an increasing market trend.